See The Doctor, Get A Toaster
Intense rivalry has managed-care plans tossing in freebies
Susan Hick had an important test to take but kept putting it off. The 55-year-old elementary school teacher from Wilmette, Ill., was due for another mammogram, but hospitals made her uncomfortable. Then she noticed a local Nordstrom store had a special deal with nearby Evanston Hospital. By having the mammogram at Nordstrom, she would get $40 off the $139 test--and receive a free facial. The atmosphere at the upscale retailer also eased her mind. "Everything was right there at my fingertips," she says. "If there was a wait, I could go shopping."
Hick had the test on Oct. 9, and it may have saved her life. Cancer was detected in her left breast, which was surgically removed on Nov. 6. For both the hospital and the retailer, the benefits were also big: Each has earned itself one incredibly loyal customer. Since it began its partnership with Nordstrom in 1995, Evanston Hospital has seen its breast cancer cases rise from 300 to 500, in part from this promotion. Moreover, Hick says that she'll keep her health plan, which includes the privately owned Evanston, and continue to shop at Nordstrom. "I've become their poster child," she says of both.
MORE CHOICES. Welcome to the brave new world of health-care marketing. Years ago, such advertising and promotional events were considered tacky and unprofessional. But because of raging competition in the health-care industry, hospitals, health maintenance organizations, and even doctors are learning to pitch their products with discounts and freebies. Overall, health-care marketing expenditures have risen from about $235 million in 1990 to about $800 million last year and could go to $1.6 billion by 2000. Health care may once have been a bit too touchy a subject for buy-one-get-one-free marketing, but no more. "There are many things we in health care have learned from our cousins in retailing," says Allan R. Glick, senior vice-president for marketing at HIP Health Plans, based in New York.
Health-care outfits have embraced advertising in part because competition in managed care has intensified. For about a decade now, consumers have had to make health-care decisions among managed-care plans instead of just sticking with the family physician or the nearest hospital. But today there are more choices than ever. To get business, doctors and hospitals no longer can depend on simply being in a network but instead have to scramble to lure patients into the plans in which they participate. Right now, "between 60% and 70% of plan membership is up for renewal," says Michael A. Sachs, chairman of Sachs Group, a medical consulting firm in Evanston, Ill., as the health-care industry blitzes consumers during the traditional fall enrollment period.
The result is increasingly aggressive promotional spending every summer and fall, when most insurance companies, HMOs, and physicians' groups open up their plans to new members. Hospitals, too, spend heavily on promotion during those months in hopes that patients will pick the doctors and health plans they are associated with.
AEROBICS CLASS. Some ploys come right out of the days when banks offered free toasters to boost new accounts. HIP Health Plans handed out a free, prepaid 10-minute long-distance card for anyone requesting information during its November enrollment period. D.C. Chartered Health Plan of Washington, D.C., is giving Thanksgiving and Christmas baskets to new members. Prospective members are also offered other benefits, such as free health club memberships (aerobics classes included) and pagers with an hour of free airtime. Columbia Medical Center in Phoenix borrows a popular pizza biz tactic to boost its emergency room traffic: Wait more than 30 minutes, and your visit is free. In Miami Beach, Mount Sinai Medical Center works year-round with local condo developers to attract customers. The private hospital displays its brochures in the developers' sales offices and uses builders' leads to send welcome letters and info packets to condo buyers.
Others stick to health-related themes. Phoenix-based Baptist Hospitals & Health Systems Inc. includes three hospitals, long-term care apartments, and a home health agency. To stand out in the crowded Arizona market, it runs the Wellness Connection at two local shopping malls. The hospital offers nutrition counseling and blood pressure checks as well as screenings for cholesterol, respiratory, heart, and prostate problems, and it makes referrals to network doctors. Coupons are also given out to mall shoppers for the tests. The goal: get potential customers familiar with their name, even when they're feeling fine.
Not everyone in the medical world is comfortable with the new commercialism. Dr. Thomas R. Reardon, chairman of the board of trustees of the American Medical Assn., says such gimmicks undercut the serious questions involved in choosing a health plan. He worries that the Madison Avenue push will cause people to overlook such issues as whether they can choose a primary care physician, co-payment costs, and whether or not doctors must adhere to "gag rules" barring them from suggesting treatments not covered by the plan. "There are a lot more important things than garden clubs or health clubs in choosing a health plan," he says.
PREVENTION. But because the barrage seems to be working, it isn't likely to fade. HIP, a company battling recent financial difficulties, says it will give out 30,000 phone cards in the New York area this fall. "We can't say exactly how many will join, but we know this helps us generate leads and gets our name out there," says Glick. Rita Johnson, chief operating officer for D.C. Chartered, says her organization has received 500 calls this fall "all saying, `I joined your plan, so when do I get my basket?"'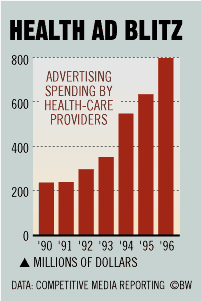 Moreover, defenders insist advertising encourages a reluctant public to deal with health issues. Douglas M. Silverstein, senior vice-president at Evanston Northwestern Health Care--which operates Evanston Hospital--says it set up shop at Nordstrom two years ago because the retailer seemed "a less threatening setting for women who might not want to have a mammogram in a more traditional setting." This year, Evanston has begun offering screenings for bone density--used to test for osteoporosis--at Nordstrom as well. And at 25% off retail to help save your life, you can't beat the price.
Before it's here, it's on the Bloomberg Terminal.
LEARN MORE