The Rage To Refinance
Lower rates and no-fee deals have sparked a miniboom
John G. Power and his wife, Betty, weren't in a rush to finish the expansion of their four-bedroom home in Encino, Calif. The Powers figured they would wait to complete the $100,000-plus addition next year sometime. But when their mortgage broker pointed out how low mortgage rates had fallen, they shifted into high gear. Now, they must finish the job, which includes a fifth bedroom, by the end of December to lock in a new $530,000 mortgage at current rates. "We're moving now before Greenspan acts, and the rates go up," John Power says.
The Powers are hardly alone. With rates on 30-year, fixed-rate mortgages now around 7.25% (with points)--the lowest since early 1996--a miniboom in refinancings is sweeping the nation. According to a survey by the Mortgage Bankers Assn. of America, 42.5% of mortgage applications in early November were for refinancings. That compares with an average of 32.5% in September and a more typical rate of about 20%. Refinancings are expected to hit about $255 billion this year, up 12% from 1996. "Rates are low, so there's no need to wait," says Frank Nothaft, deputy chief economist with Freddie Mac, the mortgage giant.
FURTHER EASING? More activity may be on the horizon. While economists don't expect overall interest rates to decline much further, there may be room for the rates on mortgages to fall a bit more. Since a peak in the spring of this year, the rates on 10-year Treasury bonds--a benchmark for many mortgages--have slipped faster and further than those on 30-year mortgages. That suggests these rates could ease a bit more in the near term. But in 1998, economists predict, rates are likely to climb.
The surge in refinancings is still a far cry from the refi boom of 1993. Back then, rates on 30-year fixed mortgages dipped below 7%--the lowest since the 1960s. Result: 57% of mortgage applications were refinancings, with a record $560 billion in refinanced mortgages made that year. Still, the current pace is a marked pickup from earlier this year.
Industry pros say there are a number of factors behind the flurry. For one thing, mortgage providers are sending out a flood of direct mailings to entice consumers to refinance. And many are pushing deals that require minimal fees and no points. That makes refinancing attractive even for consumers who aren't saddled with high-rate mortgages. "People will refinance to knock as little as 50 basis points [half a percentage point] off their rate," says Jonathan E. Gray, an analyst at Sanford C. Bernstein & Co.
This puts pressure on margins for lenders. But costs of originating a loan continue to shrink, too, thanks to computerized underwritings systems and growth of the secondary market for securitized mortgages. Still, lenders can be victims of the refi boom when borrowers prepay old loans--as lender Greentree Financial has discovered.
HYBRIDS. The variety of mortgage products inundating the market since the early 1990s also makes refinancing more popular. For example, many home buyers have chosen hybrid mortgages that offer a low, fixed rate in the first few years and an adjustable rate in later years. But with today's rates so low, many of those borrowers are now candidates for refinancing and long-term fixed rates.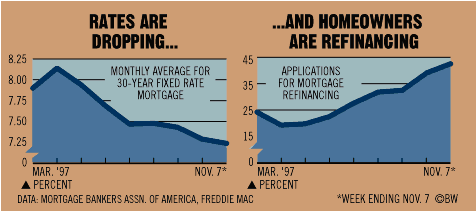 Even so, the reasons homeowners decide to refinance are often more complex than simply knocking a few bucks off a monthly mortgage bill. Guy D. Cecala, publisher of the newsletter Inside Mortgage Finance, says many consumers are refinancing to consolidate other debts under the lower interest rate and tax deductibility of the mortgage. Others are taking advantage of low rates to borrow for their children's college tuition or to fund major home improvements.
That's what convinced the Power family to accelerate their construction plans. John Power, a business manager who caters to people in the entertainment business, says he is also handling mortgage refinancings for two clients. And unless the economy or Alan Greenspan spoils the party, mortgage bankers will be finding that Power has lots of company eager to jump on the refi bandwagon.
Before it's here, it's on the Bloomberg Terminal.
LEARN MORE