Is Wade Cook's Recipe Kosher?
He says he'll make you rich. Or is it the other way around?
On a recent Saturday morning at a Marriott Hotel on Long Island, N.Y., about 80 people crammed into a conference room to learn how to earn 300% a year in the stock market. This introductory three-hour session of Wall Street Workshop, for which attendees paid $22, was hosted by Wade Cook Seminars, a division of Profit Financial Corp., based in Seattle.
Wade B. Cook, who is CEO of Profit Financial, is something of a celebrity: a best-selling investment author who had two books on the New York Times best-seller list and currently has two books on BUSINESS WEEK's best-seller list. Profit Financial offers a variety of investment and estate planning seminars as well as investment-related books and audio tapes, all done by Cook. Cook's stock is as hot as his books: It has soared from 66 cents last February to a high in September of 13 7/8, and now trades at 11.
The Long Island seminar, like scores of others across the country, was advertised on local radio and in newspapers. About 10% of those in the introductory class sign up to take the full two-day seminar, according to the company. The tab: $2,695.
For an additional $1,695, students can get a year's subscription to the Wealth Information Network, known as W.I.N., Wade Cook's Internet site. A subscriber can then "follow in the footsteps of a millionaire" and mimic Cook's trades, which are displayed on the site. Says Cook: "Name any other lecturer who puts up everything they do so the country can scrutinize it.... I don't think there's one other person who has the guts to do that. I get `thank you' letters, people quitting their jobs because of the information they get off W.I.N.... Twenty thousand people go through the Wall Street Workshops, probably only three or four or five lost money on a particular trade."
"PIECE OF CAKE." The lecturer at Cook's Long Island seminar, Pat James, a former attendee of Cook's Wall Street Workshop, told the class that in the two-day seminar they would learn how to make huge profits. In one dramatic example, James described how an investment of only $1,300 would amount to $921,367 in just three years, by using strategies including short-term trades, buying stock options, and following Cook's stock trades posted on the Internet. "It's a piece of cake," he told the crowd. "Just follow the recipe. Do deals like Wade." When asked by a student if he guaranteed those returns, he paused for a moment and replied: "Yes."
The popularity of Cook's seminars has certainly boosted its company coffers this year. In 1996, the company offered 120 of its seminars in 42 cities across the U.S. In the first half of 1997 there were 103 seminars in 43 cities. Revenues at Profit Financial have climbed from $14 million in the first six months of 1996 to $46.6 million for the same time period in 1997. Net income has jumped from $2 million to $6.2 million. Cook, who owns 60% of the outstanding shares, has seen his stake jump 1,250% this year, to some $130 million.
Not bad for a former taxi driver who declared personal bankruptcy in 1987 in Arizona. Nor for someone who in 1989 was charged with securities violations by the Arizona Corporation Commission. In 1990, that was followed with a number of criminal counts by the Arizona Attorney General's office for, among other things, selling unregistered shares of a company he controlled. Most criminal charges were eventually dismissed on double-jeopardy grounds. But this past summer, Cook did settle on two criminal counts that required him to make restitution of $70,500 to investors. "I have never done anything illegal," says Cook of the charges.
In civil actions, Cook still owes the state of Arizona $320,341 to pay back more than 140 investors who bought unregistered shares in a Cook entity in the late 1980s. That amount includes, according to the Arizona Corporation Commission, the misappropriation of almost $48,000 of corporate funds, $24,879 of which was used for personal income taxes, with the remainder going toward the purchase of a Cook home. On top of that, Cook still must pay a $150,000 fine to the state. And, according to the Arizona Attorney General's office, Cook also owes back income taxes from 1987 to 1991, which with penalties and interest charges total $36,370. Sources at the Attorney General's office say they are taking action to collect the debts. If Cook doesn't pay up, he is scheduled to be deposed this month, and the state may garnish or attach assets discovered as a result of his deposition.
The Arizona period of his life "is a big sore thumb for Wade," says Kiman Lucas, general counsel for Profit Financial. "He's still in the process of negotiating with the Corporations Commission." Lucas adds that he intends to return the money to investors, many of whom were family and friends. As for his tax returns, the problem stemmed from the fact that he didn't have complete records.
Despite the sharp increase in his company's stock price, Cook insists that his stock is still undervalued. Yet an extensive look into Cook's empire raises a number of questions. For one thing, Profit Financial's returns on its stock investments are only a fraction of what Cook promises his students. At the request of BUSINESS WEEK, Abe Mastbaum, senior vice-president and chief financial officer at American Securities in New York and an accounting expert, examined Profit Financial's public SEC filings. His conclusion: "Profit's portfolio returns from invested assets for the six months ending June 30, 1997, appear to be 20%." Over that period, the Standard & Poor's 500-stock index returned 20.5%.
Lucas says that the company's trading returns have been hurt because the seminar lecturers actually trade stocks in the classroom. These are then included in the company's portfolio. The company is considering, however, setting up different accounts for its corporate investments. But when asked if those would have generated 300% annualized returns, Lucas responded: "I don't know for certain if they would."
Although Profit Financial has about $6 million in marketable securities, the company has stated its intention to diversify its holdings. For the first six months of 1997, Profit Financial's operations generated $6.5 million in cash flow. During that same period the company plowed $6.8 million into what it called in SEC filings "capital expenditures." While it is unclear how much went into real estate, the company is pursuing real estate investments. Cook says the company is currently invested in 14 different hotels. "These are long-term investments, where there won't be much returns for two, three, four or five years," says Lucas.
Profit Financial has made substantial loans to Cook and his relatives, many of whom are also employees. Lucas explains that Cook's family stood by him during tough times in Arizona: "Wade is a very religious person and believes in strong family values and that carries over into his company. Many of his brothers and sisters actually work there." In the first half of 1997, amounts owed to Profit by employees, officers, and related parties spiraled upward by 150%, from $2.2 million to $5.7 million. Meanwhile, Profit's current liabilities exceeded current assets by $5.8 million at the end of the period, indicating a working capital deficiency. The shortfall was $3.9 million at the beginning of the year. When asked for a comment, the company did not respond.
Profit Financial also has investments in real estate ventures in which Cook has significant control. For instance, Wade Cook Seminars owns about 65% of a partnership called Evergreen Lodging. According to SEC filings, the general partner of Evergreen is a corporation controlled by "an extended family member of Wade Cook." In 1996, Evergreen loaned approximately $275,000 to Cross Roads, a limited partnership. Cook serves as president of the general partner.
Why the loans to Cook through the partnerships? "[Profit Financial] owed me a backlog of royalties at that time," says Cook. "We didn't know whether we should keep it as a loan or count it as income to me, so we booked it as a loan." Meanwhile, Crossroads Northwest, a limited partnership controlled by a Wade Cook trust, borrowed $637,401 from Profit Financial to buy real estate, which according to SEC filings was used in some instances by the Cook family. When asked what this property was used for, the company would not respond.
RINGING ENDORSEMENTS. Profit Financial also recently caught the attention of the SEC and the State of Washington Securities Commission. Sources at the Washington Securities Div. say Profit Financial is being investigated for the runup in its stock, as well as for Cook's personal ties to the numerous partnerships he controls.
So how have Cook's students done? Cook says that 30% of his new customers are referrals from former students. "We teach people how to make a lot of money," he says. Profit Financial provided BUSINESS WEEK with plenty of ringing endorsements in letters from former students, none of which, however, included a last name.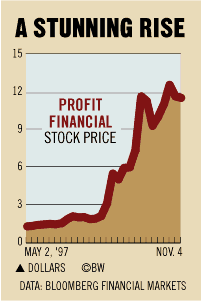 Meanwhile, Henry Schulz, a 66-year-old retiree from Houston, says he thought the seminar he took this year was a complete waste of money: "I feel like a Class A sucker for taking the class." Chris Doershlag, of Westerville, Ohio, says he lost $20,000 in six months after taking the class. "They do put disclaimers out," he says. "But he still makes you believe you can do it. He does not emphasize the downside risk."
Says Phil Feigin, Securities Commissioner for the state of Colorado, on the advertised returns of Wall Street Workshop: "In my 17 years experience, any claim promising or projecting 300% returns has been proven not only to be false but fraudulent."
Before it's here, it's on the Bloomberg Terminal.
LEARN MORE