Going After Gates
Janet Reno isn't the only one getting tough with Microsoft
Microsoft Chairman William H. Gates III sits comfortably at the end of a conference table at a resort near Phoenix, where he's attending an industry schmoozefest. Neither rocking in his chair nor pacing--as he does when excited--Gates seems almost serene. No matter that the Justice Dept. just hauled his company into court to enforce a consent decree. Or that Justice is also looking into a half-dozen Microsoft deals and business practices. Or that attorneys general in six states are launching inquiries. Or that Sun Microsystems is suing for breach of contract. Or that a Senate committee plans hearings and even Ralph Nader is piling on.
None of it really matters, says Gates, who traces all the activity back to disgruntled rivals such as Netscape Communications Corp. "It's the way they play the game. By using lawyers. Fortunately, that has no effect on the guys who come in to write software or with our customers," he says.
Perhaps Gates shouldn't feel quite so comfy. Sure, seven years of investigations by the feds have had little impact. Even the 1995 consent decree, which ended a Justice antitrust case, failed to slow Microsoft's momentum.
But this time could be different. On Oct. 22, Justice showed it's playing hardball. It released documents indicating that Microsoft threatened to terminate Compaq Computer Corp.'s contract to install Windows 95 on its computers if Compaq continued to remove the Microsoft Internet Explorer icon from opening screens because it had a deal to display Netscape Navigator. The documents, which include a June 6, 1996, letter from Microsoft and testimony by a Compaq executive, could help Justice make the case that Microsoft coerced PC makers that wanted Windows into using other Microsoft products.
TIGHT LINKS. Another big difference this time is the number of parties arrayed against Microsoft. "We're just one of many now," says Peter Harter, an in-house lawyer for Netscape. In fact, Microsoft's still-expanding power is drawing companies from outside the computer industry into the enemy camp. Sabre Group Holdings Inc., the Fort Worth travel-reservation service, has joined Sun and others in launching a lobbying group, the Council for a Competitive Electronic Marketplace. The companies hope to get dozens of others to join the group to pressure the government to crack down on Microsoft, according to an executive at a company that decided not to join. Companies are being asked to contribute up to $250,000 to finance an anti-Microsoft media campaign, too, says the exec.
What's their beef? A coalition document notes that Microsoft has launched or plans to launch online services for travel, car-buying, investments, real estate, insurance, banking, bill-paying, and local entertainment. By linking its services tightly to Windows, they fear, the software giant will be able to capture customers before they have a chance to discover competitors. "No single entity or individual should control access to the electronic marketplace," says a coalition document, a copy of which was obtained by BUSINESS WEEK. Sabre and Sun declined to comment on their plans.
At the moment, however, Microsoft's No.1 worry is Justice, whose suit could have an immediate impact on how the company does business. The action, announced on Oct. 20 by Attorney General Janet Reno and her chief antitrust lawyer, Joel I. Klein, asks that Microsoft be declared in contempt of court for violating a 1995 consent decree. Reno is asking the court to levy fines of $1 million a day as long as Microsoft remains in violation.
The Justice suit concentrates on the type of "tying" arrangements described in the Compaq testimony. Tying arises when a customer is forced to buy one product to get another. Specifically, Justice says Microsoft's practice of requiring personal-computer makers that ship Windows on their PCs to also ship Internet Explorer violates the consent decree. "It's an abuse of monopoly power," says Klein.
What's important about the issue is how it affects the development of the software market. At the moment, Netscape has 60% of the Web-browser market. But if Microsoft can continue to require PC makers to ship Explorer with every Windows machine--and it can proceed with plans to merge the browser with the operating system in Windows 98 next year--then Microsoft could take that lead away. Netscape, which is working with Justice, fears that the merged product could make the tying argument moot. "Integration is a technique Microsoft is using to get around the consent decree," says Netscape CEO James L. Barksdale.
Microsoft denies that it has done anything wrong. It says Internet Explorer is not a separate product subject to the "tying" prohibition but merely a new feature of Windows. It says the consent decree allows it to add features to its products, just as competitors do. Says William H. Neukom, Microsoft's senior vice-president for legal affairs: "We're fully in compliance."
Antitrust experts disagree about whether Justice can win. Because the consent decree is ambiguous, says one lawyer not connected with the case, "Microsoft has a better than 50-50 chance" to beat it. That lawyer's worry is that if Justice does not win in the current case, it may be discouraged from going ahead with a series of other investigations into Microsoft, which Klein confirms are under way. The agency is probing the $150 million investment Microsoft made in Apple Computer Inc. in August, as well as its substantial holdings in the most successful startups that have technology for "streaming" video across the Net.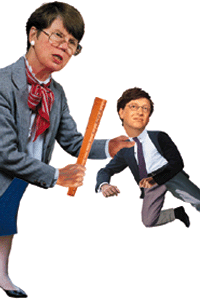 Meanwhile, state attorneys general from California, Connecticut, Massachusetts, Minnesota, New York, and Texas are looking into Microsoft's forays into online banking and travel services. The Senate Judiciary Committee will get into the act in November with a set of hearings on competition in the computer industry. And consumer activist Nader will be hosting a conference on the same theme. "A lot of people are afraid to come," says Nader.
"We may have to have an incognito section, with bags over their heads."
Ultimately, the biggest danger to Microsoft is a computer industry that evolves beyond Windows. Many customers and Microsoft rivals are betting that Sun's Java programming language may allow just that. Capable of running on all sorts of computers and across networks, Java might make conventional computer operating systems such as Windows passe. No wonder Microsoft and Sun are wrangling over Java--in court.
Before it's here, it's on the Bloomberg Terminal.
LEARN MORE