Food Processing Nourishes Gencor
Gencor Industries (GX) used to be a gray little company making asphalt plants for road building. Then it acquired another seemingly nondescript company from Ingersoll-Rand a year ago. That business vaulted Gencor into yet another market: food processing, a lucrative and growing industry.
Already, the acquisition has "worked miracles" for the company's top and bottom lines, notes investment manager Jerry Levine of BlueStone Capital. Gencor hasn't yet reported results for the fiscal fourth quarter ended Sept. 30, but Levine figures sales for fiscal 1997 will jump to $178 million and earnings to $1.10 a share, up from 78 cents in fiscal 1996.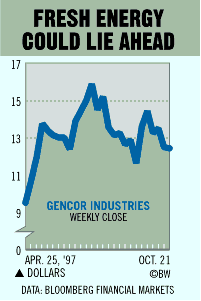 Gencor's newly acquired business designs and makes equipment for feed mills and processing plants that pelletize, grind, and flake foodstuffs. Its customers include Archer Daniels Midland, Tyson Foods, and Cargill.
Levine believes the company is working on two more acquisitions--also related to food processing--which he figures will bolster sales and earnings. Should these acquisitions come to pass, he says, sales in 1998 will climb to $250 million and earnings to $2 a share.
At the stock's current price of 12, there is very little downside risk, argues Levine, who sees the stock hitting the mid-20s in 9 to 12 months.
Before it's here, it's on the Bloomberg Terminal.
LEARN MORE