At Apria, `A Test Of Wits And Wills'
Abattle may be brewing at Apria Healthcare (AHG), which got a surprise offer on Oct. 13 from a group led by Transworld HealthCare and Hyperion Partners II, headed by ex-Salomon Brothers top gun Lew Ranieri. The offer of $918 million, or $18 a share, in cash and stock stunned CEO Jeremy Jones, who was quietly preparing to take the company private, says a source familiar with the offer.
Transworld CEO Tim Aitken says that "whatever plan Jeremy has about taking the company private is now out the window." Is Jones boxed in?
Not necessarily, says an arbitrageur who thinks Jones will seek a fatter offer from a white knight rather than cave in to Aitken, Apria's ex-vice-chairman. (Back in 1995, Homedco, then headed by Jones, and Abbey Healthcare, of which Aitken was CEO, merged to form Apria. Aitken left in November 1995.)
In early September, Apria's stock fell from 18 to 13 in a few days, because of disappointing earnings. But it rebounded from 14 to 16 after Aitken's offer.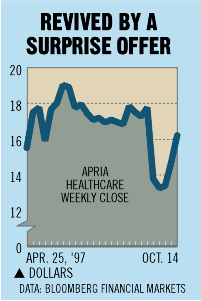 "It has come down to a test of wits and wills between Jones and Aitken," says one analyst, who foresees a protracted battle. In July, Apria hired Goldman Sachs to look for a buyer, but Aitken's group didn't believe that Jones really intended to sell. Aitken says the confidentiality pact that potential buyers were asked to sign discouraged any offer because it stipulated that they would not be allowed to submit an offer unless requested by the company. Aitken didn't sign up and instead submitted a bid. Jones denies he intended to take Apria private and says the board is studying the bid. With Lehman Brothers and CS First Boston behind him, Aitken aims to win.
Before it's here, it's on the Bloomberg Terminal.
LEARN MORE