Emc: Building An Empire Bit By Bit
The data-storage outfit may become an info-tech giant
Three years ago, Michael C. Ruettgers, the chief executive of EMC Corp., had a vision that computer storage was about to undergo a revolution. Customers such as United Parcel Service Inc. and Visa International were desperate to share vital information with more of their employees. So Ruettgers dreamed up "open" storage systems that could hold data for mainframes, as well as other types of computers running all manner of software throughout the company. When Ruettgers boldly predicted that EMC would sell $200 million worth of such systems in 1995, even "my own sales guys said it was crazy," he recalls.
Nobody doubts his sanity now. Thanks to Ruettgers' prescience and the growing recognition by executives around the globe that fast, reliable access to mountains of information can be a strategic weapon, EMC is now the No.1 supplier of big iron storage. Last year, EMC's sales hit a record $2.3 billion, nearly triple their level in 1993, before Ruett-gers' grand plan. In the same period, profits have zoomed threefold, to $386 million. Among major technology companies, only Intel, Microsoft, and Cisco Systems enjoyed net profit margins higher than EMC's 17% in 1996. This year looks to be another winner: Analysts say EMC's profits will climb 39%, to $535 million, on revenues up 25% to more than $2.8 billion.
Such soaring financials have made EMC a Wall Street wunderkind. The stock has nearly tripled in the past 12 months, to an all-time high of 57, and EMC ranks No.3 in shareholder return among all companies from 1991 to 1996, behind only networking-equipment makers 3Com and Tellabs Inc., according to Boston Consulting Group.
And the company may have only begun its upward trajectory. Analysts say EMC's technology gives it a two-year lead over competitors. Most rivals still tie their storage products to one type of computer, but EMC's work equally with mainframe and PCs. That positions it to exploit a storage market expected to surge from $10 billion in 1997 to $25 billion in 2002, according to researcher Dataquest Inc. The ebullient Ruettgers pegs the market's potential even higher: $40 billion in 2002.
Why the boom in a well-worn tech sector? Storage is exploding as companies build vast electronic "warehouses" to stash reams of sales, financial, and operations data from every corner of their businesses. The Internet, too, is fueling demand for more storage. Even the nettlesome Year 2000 problem looks like a windfall for EMC, because companies will duplicate their data to ensure nothing is lost when the century turns over. Add it all up, and "EMC could join Intel, Microsoft, Cisco, and Oracle as the next franchise company in technology," says analyst Steven M. Milunovich of Merrill Lynch & Co.
RICH FOES. Before EMC can join high tech's Hall of Fame, however, it must fend off resurgent competition. The same boom feeding EMC's prosperity has stirred rivals such as IBM (which has teamed up with Storage Technology Corp.) and Hitachi Data Systems Corp. These giants have deeper pockets, a big presence among mainframe users, and guaranteed supplies of drives from in-house manufacturing operations. And each has announced its own new "open" storage products. "We intend to grow faster than the market, and that means gaining market share," says James T. Vanderslice, vice-president for IBM's storage, networking, and printing business.
As if the old-line computer giants weren't enough to contend with, Silicon Valley highflier Sun Microsystems Inc. has elbowed into the storage business. On July 17, Sun snapped up EMC rival Encore Computer Corp. for $185 million. The acquisition gives Sun crucial technology that it will sell in systems designed to hold mainframe, UNIX, and Windows NT data all at once, just as EMC's products do. "Storage makes lots of money, so it's very strategic to us," says Sun CEO Scott G. McNealy.
Being chased by Sun is a tribute, of sorts, to EMC. The conservative New England company sits far from the swagger of Silicon Valley. Its unassuming new headquarters are shoehorned into an office park in Hopkinton, Mass., a town so small that most businesses lack sewer service. Many of EMC's execs are battle-scarred survivors of the Massachusetts minicomputer meltdown in the late 1980s. They share a wariness of expanding too quickly, and have built a culture legendary for its Yankee frugality. Chairman and founder Richard J. Egan, for instance, whose 2.7% stake in EMC is now worth some $343 million, still has the same brown laminated particleboard desk he used when he started the company--a freebie he got from selling furniture on the side in EMC's early days.
But EMC has spent heavily where it really counts, sinking $1 billion into software development over the past eight years. At the same time, the company has tried to steer clear of proprietary hardware, instead using standard PC components to keep costs to a minimum. Each big storage array built by EMC contains dozens of commercial DRAM memory chips and off-the-shelf disk drives made by Seagate Technology Inc. This approach, hatched by Egan and Ruettgers in the late 1980s, lets EMC ride the relentlessly improving PC industry price-performance curve while adding value via software. "Software is an accumulation of time and knowledge," Ruettgers says. "Once you gain a big lead, it can be very difficult to displace."
SUPERFAST SYSTEMS. Even so, EMC had to reassure big corporate customers back in 1995 that arrays of inexpensive disks were fast enough to store and fetch massive amounts of data around the clock, at speeds approaching 3,000 transactions a second. EMC engineers devised technology to park data in memory chips, where programs can access it much faster. That was enough to convince Visa International, which says EMC's speedy products have cut by one-third the time it takes to process $3 billion worth of credit-card transactions each night. "EMC's storage systems gave us that throughput," says Jawaid Ekram, Visa's senior vice-president for network services.
While EMC's approach isn't unique, it started earlier than its competitors and upped the ante by focusing on software. "IBM and Hitachi are just getting into the open storage game, while EMC is well into the second half," says Dave Vellante, an analyst at International Data Corp. The company also boasts a 500-person direct sales force dedicated to selling storage--a group larger than staffs at either IBM or Hitachi.
This has made United Parcel a die-hard customer. The package-delivery giant has nearly tripled its storage capacity in three years, from 11 terabytes in 1994 to more than 32 terabytes today, to allow for up-to-the-minute tracking of packages. (A terabyte is equivalent to 20,000 four-drawer filing cabinets of data.) Three million times a day, UPS service reps pull info on the status of a package from the storage systems. "Speed is the key," says Jerry Skaggs, vice-president for information services.
Indeed, the driving force behind EMC's rise is a revolution in the way companies use information. Storage "has become as important as the computer to which it is connected," says Merrill Lynch's Milunovich. As businesses use computers to slice, dice, and store more data, nearly every aspect of their business is being transformed, from customer service to marketing to strategic planning. Consider Liz Claiborne Inc., which will launch on Oct. 1 a system that uses EMC products to store point-of-sale information from clothing retailers around the world--and should shorten the time needed to spot fashion changes. The system "gives us the ability to sift through millions of transactions and spot a trend in time to make critical decisions about color, fit, or body types that are hot," says John R. Thompson, Claiborne's chief information officer.
Demanding applications like this are driving EMC's open storage revenues to an expected $1.4 billion this year--for the first time surpassing its sales of mainframe products. But will it last? Analysts say the company needs to beef up its international sales staff, and some investors worry that prices for open storage will begin to fall sharply as competition heats up. That could cloud EMC's prospects in much the same way that falling mainframe-storage prices in the mid-'90s caused EMC's stock to stall. One danger is nimble new competitors at the low end of the market: Sales of storage systems for Windows NT servers from companies such as Compaq Computer Corp. and Data General Corp., for example, should climb 34% annually for the next four years vs. 9.4% for the total storage market, says IDC.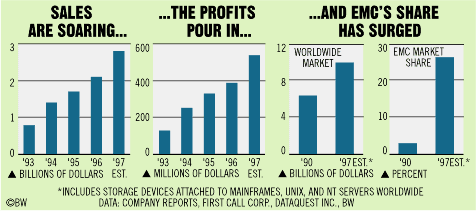 Even if that happens, EMC appears better positioned than others to weather a price war. Demand for EMC's open storage products, which sell for $260,000 to $3.4 million, is so strong that the company charges twice as much as its competitors. "What other company can command [twice the] premium over competitors like IBM and Sun?" asks IDC's Vellante. Falling prices are "a way of life" in computer storage, shrugs Ruettgers. Besides, he reasons, lower costs will only fuel demand for open storage. If Ruettgers is right about that, too, EMC may yet join the tech titans.
Before it's here, it's on the Bloomberg Terminal.
LEARN MORE