The Small Car Wars Are Back
Japan regains market share from the worried Big Three
The news raised eyebrows from Detroit to Tokyo. On Sept. 2, employees at General Motors Corp.'s Saturn small-car division were told that the company would cut production by 17% because of slumping sales. The next day, Honda Motor Co. reported that August sales of its Civic subcompact were the highest for any month since the car was first sold in the U.S. 25 years ago.
Are the Big Three losing the battle in the small-car market to the Japanese? It sure looks that way. Through August, Civic sales are up 18% and Toyota Corolla sales have risen 8%. Yet Saturn is down 8%; Escort, 4%; and Neon, a staggering 24% (chart). "The small-car market is shrinking, but that hasn't slowed down Honda and Toyota," says Christopher W. Cedergren of auto-consulting firm Nextrend in Thousand Oaks, Calif.
This wasn't what Motown expected when GM rolled out the Saturn in 1990 and Chrysler Corp. introduced the Neon four years later. These models, Detroit execs promised, were the import-fighters that would reclaim the small-car turf that the Japanese grabbed in the 1970s and '80s. Both Saturn and Neon took off fast, then saw sales erode as the cars aged. And a 1996 redesign of Ford's small-car warhorse, the Escort, hasn't attracted more buyers.
Just before Saturn decided to cut production at its Spring Hill (Tenn.) plant, Chrysler shut down its Neon factory for two weeks--the fourth time this year that flagging sales idled the plant. Admits James P. Holden, Chrysler's executive vice-president of sales and marketing: "We should be doing a lot better with Neon than we are."
What's the problem? GM Chairman John F. Smith Jr. blames a weaker yen. At Martin "Hoot" McInerney's Detroit area megadealership, you can get a no-money-down, three-year lease on a new Toyota Corolla for $250 a month. A Neon at his Dodge store, by comparison, leases for about $300.
But competitors counter that the real issue is the cars themselves. "The Big Three think we do this with smoke and mirrors," says Richard Colliver, American Honda's executive vice-president of sales. "They can't or don't want to believe that we have good products at a good price."
WHAT COUNTS. The fact is, Big Three cars don't have their Japanese competitors' reputation for dependability. That gives the Japanese another edge: Superior quality translates into higher resale prices, which lets Honda and Toyota offer lower lease payments because their cars hold their value longer than Detroit's models.
Detroit is fighting back, for now, with hefty rebates. Chrysler offers a $2,000 rebate on the Neon, and Ford Motor Co. has a $1,000 rebate on the Escort. Saturn, meanwhile, clings to its one-price, no-haggling sales pitch and rejects incentives.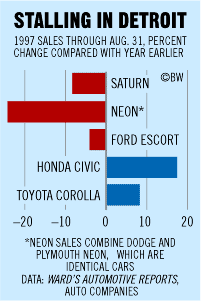 The bigger battles will be fought with new models. Neon will be redesigned for next year, and Chrysler is considering building a small sport-utility and a microvan off the same platform. Saturn plans to roll out a redesigned subcompact in 2000, but will introduce a larger sedan in the interim.
Despite the surge in Japanese small-car sales this year, Detroit makes no apologies. "There isn't anybody I'd want to trade places with," says Saturn sales chief Joseph Kennedy. "Even Tiger Woods finally missed a cut." Like the superstar golfer, Saturn knows what it's like to be a young phenom in a brutally competitive industry. What Detroit has to do now is prove it can bounce back from its subpar performance.
Before it's here, it's on the Bloomberg Terminal.
LEARN MORE