A New Town Blooms In The Desert...While The Nile Is Coaxed To Help
Today it's just a barren plot of desert with a few bulldozers clearing sand, a crane digging into the hillside, and administration buildings dotting the forbidding landscape. But by 2006, it will be a bustling community of high-rise apartments, malls, offices, schools, and hospitals. It's called El Rehab, one of Egypt's largest privately built desert communities, expected to house 150,000 people and employ 30,000. It is also part of Egypt's newest strategy to get private-sector investment to help relocate people from the crammed, congested narrow strip of green that runs along the Nile River.
If El Rehab is any indication, it looks as if this new strategy might work. In just three months, buyers snatched up all 7,000 apartments and 940 villas for sale in its first and second phases. Long lists await the remaining 30,000 units. "I never expected this much success," said Hisham Mostafa, managing director of Tatweer, the company that owns El Rehab. "I expected to sell only 30% of the units the first year."
CHEAP LAND. Egypt's desperate need for more livable land is most evident in Cairo's jam-packed, polluted, deafening streets. The government must create more space, jobs, and farmland for the 61.5 million people shoehorned into the Nile River Valley--only 5% of Egypt's total area. The future can only get worse. By 2015, the population is expected to reach 85 million. Each year, Egypt has 500,000 new job-seekers and 30,000 fewer acres of arable land due to urban sprawl.
Until recently, the government couldn't seem to lure people to its desert communities, now numbering 18. In 1993, only 4% of the 6 million people originally intended to relocate to these desert cities and neighborhoods lived there. Then, the government enlisted the private sector's help by offering cheap land, tax exemptions, and easy payback schemes, and soon investors began building housing, commercial centers, and hospitals in the desert. Since 1993, those living in the new communities have increased by 12%, to 300,000.
El Rehab, the biggest and perhaps most successful venture so far, will cater mainly to middle-class young people who are desperate for affordable housing, clean air, and space. Construction began in April. The $1 billion project will also include sports clubs, cinemas, restaurants, and crafts workshops. Located on 590 hectares, El Rehab will be only 14 kilometers from Cairo's outskirts, right off a beltway.
Mostafa attributes El Rehab's success to an extensive sales and marketing force, credible partners--including three of the country's most reputable banks--and interest-free payback schemes. Buyers pay 7% of the $16,000 to $38,000 apartment price and then 90 monthly installments over five years. Target incomes are $750 to $1,800 a year.
Still, while most analysts agree that El Rehab was a good idea, they question to what extent it will fulfill its ultimate purpose of relieving Cairo's overcrowding. Since El Rehab has no real industry to generate jobs, residents will still have to work in Cairo, sometimes a one-hour commute during rush hours.
Egypt's hopes for relieving the Nile River Valley lie with a $90 billion project that will create a 322-km canal through the Western Desert. A pumping station will pump 23 billion liters of water per day into the canal stretching from Lake Nasser to link with oases. When completed in 20 years, officials hope the government project will add nearly 20 million hectares of livable land.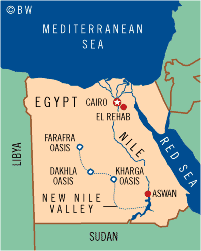 After Cairo installs infrastructure, including roads, schools, and hospitals, the private sector is expected to do the rest--establish farms, factories, housing, shops, and more. Already, investors have agreed to construct three hotels, and Saudi Prince Alwaleed bin Talal will purchase the first 182,000 hectares. Qualified investors will get such land for little or nothing, along with tax exemptions.
The project's scope has its critics. They fear that the cost will bankrupt Egypt. They also wonder how a country that uses about every drop of available water will have enough for the project. Unlike reclaimed land in Israel and elsewhere in Egypt, the locale is true, isolated desert. "You can't conquer the desert," said Bahay Issawi, a prominent geologist. "It will conquer you."
Before it's here, it's on the Bloomberg Terminal.
LEARN MORE