U.S.: Shoppers Are Back Stoking The Economy's Fire
Demand has picked up again--and that's a major concern for the Fed
Hold on to the safety bar. Continuing in its roller-coaster ways, economic growth is once again coming out of a dip and heading uphill. The building momentum will determine growth and inflation prospects going into 1998, and it will influence the thinking of Federal Reserve policymakers in Washington.
All in all, the July data support the view that third- quarter growth will be well above the second-quarter pace of 2.2%, but with low inflation (charts), although it now appears that last quarter's growth will be revised up. Shoppers returned to stores, and housing remained vibrant. Production started the quarter tepidly, but that partly reflects a now settled auto strike.
Most important, consumers are leading a rebound in overall demand. But while robust spending allays concerns about the second quarter's big inventory buildup, it also will be a key factor in future Fed decisions on interest rates. The Fed said the trigger for its March rate hike was "persisting strength in demand."
As expected, the Fed left rates unchanged at its policy meeting on Aug. 19, but fears of a return to overly strong growth are already making Wall Street jittery over the next confab in September. Fed officials will be looking for evidence that faster growth is generating production constraints and price pressures.
ALSO, THE FED must be concerned about the Teamsters' victory in the United Parcel Service Inc. strike. Fed Chairman Alan Greenspan has long credited "worker insecurity" with keeping wages down. With unemployment at 4.8%, employees may not feel so vulnerable anymore.
The concessions by UPS on wages, part-time workers, and benefits will refocus attention on tight labor markets. Growing labor costs threaten a cut in profits and pressure to raise prices. The labor-cost issue is especially critical because recent data and government revisions to past numbers strongly suggest that, if labor costs pick up further, productivity growth will not provide much of an offset. Second-quarter productivity in the nonfarm sector rose at an annual rate of only 0.6%, and it was up only 0.7% from a year ago.
The key issue right now, though, is the economy's strength. Some August data will be skewed by the UPS strike, especially payrolls. But any strike-related drops in August jobs, factory shipments, or retail sales should disappear with the September reports.
The Fed will closely watch the rebound in consumer demand. Retail sales jumped 0.6% in July, on top of a revised 0.7% advance in June. The gains were widespread, and after adjusting for inflation, the July data suggest that real consumer spending is already rising at a 3% annual rate this quarter, up from just 0.8% in the second. And with retail surveys for August looking healthy, growth of better than 4% for the quarter is not out of the question. Nor would it be surprising, given such solid consumer fundamentals as income growth, job gains, and a strong stock market.
Sturdy fundamentals, along with low mortgage rates, are also pumping up housing. Housing starts in July were unchanged at June's 1.45 million annual rate, and single-family starts alone rose 2.7%, to 1.14 million. In addition, the National Association of Home Builders' housing index rose from 56 in July to 58 in August, the highest since March, with upbeat readings on current sales, sales expectations, and buyer traffic.
Mortgage applications to buy a house remain high, meaning home sales should keep rising through this quarter. And low rates are spurring applications to refinance mortgages. Those requests in July were more than double their April levels. Refis will generate extra cash to further lift consumer spending.
THE CONTINUING DEMAND REBOUND will keep production facilities humming this half. Industrial output rose 0.2% in July, after a 0.3% increase in June. Factory production alone edged up just 0.1% in July, but a strike dropped motor-vehicle production by 5%.
The auto strike in July, followed by the UPS strike, may make third-quarter production data appear weak. But existing orders are at a lofty level, and the outlooks for domestic and foreign demand are encouraging. Therefore, manufacturers have little reason to slow down assembly lines for very long.
Increased spending also will keep inventories at manageable levels. Stockpiles held by manufacturers, wholesalers, and retailers grew a surprisingly large 0.7% in June. That means inventory accumulation in the second quarter--already put at a huge $66.2 billion--will turn out to be even higher when the Commerce Dept. reports its revisions to the gross domestic product on Aug. 28.
There is little, however, to imply that the extra inventory was unwanted. Business sales also rose 0.7% in June, as wholesale inventories surged 1.9%, suggesting that many of the goods were imports. If so, slower inventory growth this quarter would come at the expense of foreign producers, and the drag on the economy from less stockpiling would be offset by improved foreign trade as imports slowed.
In fact, imports fell in June, while exports rose to a record level. As a result, the trade deficit for goods and services unexpectedly narrowed to $8.2 billion in June, down from May's $9.5 billion. Combined with greater-than-expected inventory growth, the smaller trade gap will result in an upward revision to second-quarter GDP growth, perhaps to as much as 3%.
ONE HUGE BENEFIT from trade has been imports' restraint on goods prices. The 21% rise in the trade-weighted dollar since mid-1995 has enabled foreign producers to lower the prices of their goods sold in the U.S., and that price competition has prevented American manufacturers from marking up their products. That's a major reason that inflation remains so tame within a strong economy.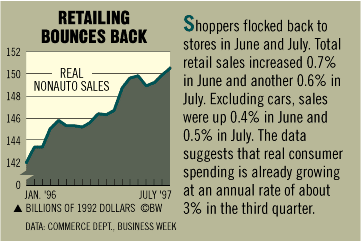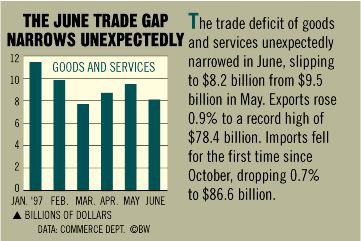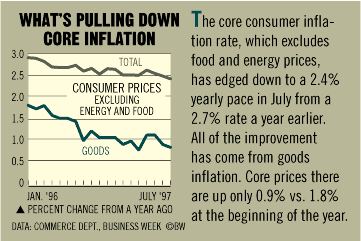 Producer prices for finished goods fell again in July, by 0.1%. And excluding food and energy, core prices also were down 0.1%. At the consumer level, both total and core prices increased 0.2% in July. Over the past year, core consumer prices rose 2.4%, down from a 2.7% advance in July, 1996. But core service inflation--3.1% in July--has remained fairly steady; the big improvement has been in goods. The core goods inflation rate was a negligible 0.9% in July, down from 1.8% at the start of last year.
While inflation seems set to stay down in 1997, price pressures in 1998 look more worrisome, especially if the dollar does not hold at its current level and if workers grow more restless. As demand pulls the economy up another peak, the jobless rate could drop to 4.5% by yearend, and business will have to bid up wages to attract new employees. If so, even those not employed by the tightest ship in the shipping business may feel braver about demanding more pay and benefits.
Before it's here, it's on the Bloomberg Terminal.
LEARN MORE