Germany: The Domestic Picture Is Perking Up
Economy Minister Gunter Rexrodt sounded upbeat about the German economy on Aug. 18. Growth was revving up, he said, the export-led upturn was starting to lift the domestic economy, and a stronger labor market was in sight. What's more, many private economists agree.
Rexrodt predicted that second-quarter economic growth would show a jump of "up to 1%" when the data are released on Sept. 10, up from 0.4% in the first quarter and 0.1% at the end of 1996. Such a rise would put growth on course to reach the government's 1997 goal of 2.5%.
Growth is still export-dominated, and that trend will continue, led by autos, capital goods, pharmaceuticals, and chemicals. The German mark has fallen 19% against the dollar this year, and foreign manufacturing orders are rising faster than the double-digit pace of exports, as growth in key markets stays robust.
But now, domestic orders are strengthening (chart), as businesses start to rebuild their low inventories and add to their capital spending. Industrial output rose 1.5% in June, and factories used 85.5% of their capacity, more than the long-term average.
The main economic drag is still consumption, amid a record 11.4% joblessness, lagging wage growth, and stalled efforts to reform taxes and welfare. But in the West, labor markets are stabilizing as economic growth strengthens. Western German unemployment fell in July, but construction weakness is still hurting the East.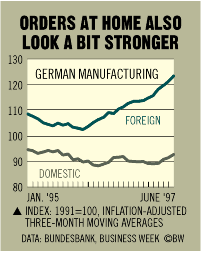 But the weak mark is cutting two ways. While lifting growth, it also is fueling worries about higher inflation and interest rates. Import price inflation jumped to 3.3% in June, a six-year high, and producer prices are speeding up. Consumer inflation rose to 1.9% in June, the highest since May, 1995, but one-time influences added a boost. The Bundesbank, sounding concerned recently, is laying the groundwork for a rate hike. The mark has recovered a bit since hitting an eight-year low against the dollar on Aug. 6, but any further weakening could force the Buba to act.
Before it's here, it's on the Bloomberg Terminal.
LEARN MORE