Japan: Too Heavy On The Brakes?
Evidence is growing that Japan's fiscal tightening may be a bigger drag on the economy than initially expected. So while it was widely accepted that second-quarter growth would be very poor, it now appears that the second half will also be weak.
The Apr. 1 hike in the value-added tax to 5% from 3% caused consumers to buy before the hike. As a result, first-quarter real gross domestic product jumped at a 6.6% annual rate, but analysts expect second-quarter GDP to fall by about 3%.
Moreover, last quarter ended with plenty of bad news. While the ratio of job offers to applicants edged up in June, unemployment remained at a record 3.5%. Compared with a year ago: June housing starts fell 11.6%; July vehicle sales were down 10.1%; and household spending posted a startling drop of 4.7%, the biggest decline in 23 years. All this suggests that the anemic consumer sector, symptomatic of Japan's weak recovery, has not yet turned the corner.
Another big surprise was the unexpectedly large drop in June industrial production--3.1%, the fourth decline in five months. Weak domestic demand was to blame. Shipments of manufactured goods fell 2%, while inventories rose 1.7% to their highest level in four years. The inventory-sales ratio is climbing (chart), suggesting little need to boost output anytime soon.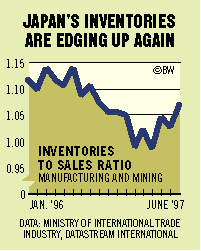 The only bright spot for industry has been exports, which have benefited from the yen's slide vs. the U.S. dollar. But even manufacturers are warning that exports will not continue to increase strongly. For one thing, the yen has strengthened since May. Also, many east Asian economies are slowing, so their demand for Japanese goods is waning.
Weak domestic demand means that the economy is more likely to grow at a rate closer to 2% than 3% in the second half. That snarls Tokyo's plans to cut the budget gap, and pressure may rise to boost growth by weakening the yen. That strategy, while it may lift exports, is sure to exacerbate trade tensions with the U.S.
Before it's here, it's on the Bloomberg Terminal.
LEARN MORE