It's Battle Stations In Workstations
PC makers gain ground in the $15 billion workstation market
For years, personal-computer makers could only envy the lofty margins and deep loyalty that makers of engineering workstations earned from their corporate customers. Despite constantly improving technology, PC makers could never quite catch up to workstation companies, which kept introducing new generations of powerful RISC chips and improvements to Unix, the operating system for the most sophisticated programs--for designing cars, creating film animations, or drafting computer circuits.
Now, PC makers are finally getting somewhere in the $15 billion workstation market. The reason: Intel and Microsoft have made improvements in their chips and software that are specifically aimed at giving PCs the capabilities of workstations--but in machines costing 50% to 75% less than those made by Sun Microsystems or Silicon Graphics. "We have the capability to change the market dynamic," says Les Crudele, vice-president of the workstation division at Compaq Computer Corp.
Compaq, which aims to ship 100,000 workstations this year, is one of several PC makers that are chewing off a chunk of the low end of the market: Unit shipments of $4,000-and-up PC workstations will be double those of traditional RISC/Unix machines this year, predicts International Data Corp. The latest entry is mail-order king Dell Computer Corp., which introduced its first workstations on July 28. The machines, starting at $3,700, are based on an Intel-supplied design and run Microsoft's Windows NT operating system. "We've worked hand-in-glove with Intel," says Dell workstation marketing vice-president Linda Hargrove. "Our intent is to be one of the top two workstation vendors--if not the top."
Workstations represent more than a fresh market opportunity for PC makers. Even while undercutting the workstation leaders on price, they hope to fatten their bottom lines. PC workstation margins are only about 30%--low by the standards of Sun or SGI but about a third higher than in conventional PCs.
KEY DEVELOPERS. Two years ago, Intel and Microsoft began clearing the way into workstations for the PC makers. The chip and software giants began cultivating key software developers such as Parametric Technology Corp. and SoftImage Inc., encouraging them to rewrite workstation programs for the PC-based machines.
PC makers quickly jumped in. Dell and Compaq created workstation divisions. Compaq, Intel, and Microsoft teamed up to design multiprocessing workstations. PC makers Hewlett Packard, IBM, and Digital Equipment--all of which also make Unix workstations--have added PC workstations. Microsoft even makes sales calls with HP to promote PC workstations.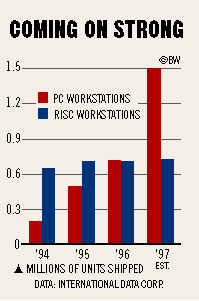 Traditional workstations won't fade away, though. Hundreds of customers rely heavily on RISC/Unix machines and the software that runs on them. Ed Mehalick, director of engineering systems at Lockheed Martin Corp., which has 30,000 Unix workstations, says the cost of retraining engineers on PCs would overshadow any hardware savings. "We've standardized our mechanical CAD, electronic design, and software engineering on Unix," says Mehalick. "We're not moving off that anytime soon."
Still, the low prices of PC workstations mean that companies such as Lockheed Martin will have to consider them. Indeed, the defense giant is evaluating the PC workstation for future buys. One sign of how hot PC workstations are becoming: On July 29, French mainframe program supplier Dassault Systemes purchased SolidWorks for $320 million in stock--a whopping 44 times last year's revenue for the PC workstation software company. With momentum like that, it's the PC workstation crew that's now the envy of the industry.
Before it's here, it's on the Bloomberg Terminal.
LEARN MORE