Keeping Cool Amid Red Chip Fever
Swire waits while investors burn for closer ties to China
When he started out at Swire Pacific Ltd. as a "ship jumper" in Hong Kong's Victoria Harbor over 30 years ago, Peter D.A. Sutch would ride sampans out to arriving freighters to hobnob with the captains and pay the crews. These days, as chairman of the U.S. $5 billion hong, or trading company, it is shareholders Sutch must talk to, and they're not happy with what he's saying. Unimpressed by Swire's traditional 10% annual earnings growth, investors have let the stock drift along at $7 or so--even as they've driven up rival Hong Kong stocks and mainland-based "red chips" to record prices. Some critics have even urged that Swire be dumped from the Hang Seng Index.
It wasn't supposed to be this way. Rival hong Jardine Matheson Holdings Ltd. drew China's wrath for reincorporating offshore, delisting its shares in Hong Kong, and supporting former Governor Christopher Patten's controversial democratic reforms. Swire, by contrast, always stayed in Beijing's good graces and carefully invested in the mainland, where it has the Coca-Cola franchise for about one-third of the country, as well as assorted manufacturing ventures. Last year, Swire even let two Chinese companies, Citic and China National Aviation, buy a majority stake in its Cathay Pacific Airways subsidiary at a discount.
But this performance just isn't hacking it with stockpickers obsessed with the "China story." Says IDS fund manager Elizabeth Tran: "These days, investors aren't interested in seeing friendly relations between Hong Kong and Chinese companies, they want to see intimate relations." To impress the market, Hong Kong companies have to show they will be getting huge chunks of their earnings from China or are seeking big capital injections from mainland companies. China Light & Power's stock soared, for instance, after selling a 20% stake to Citic.
LOW STAKE. By these standards, Swire falls short. Swire's China ventures, including the Coca-Cola franchise, contribute only about 5% of earnings. The company missed the China property boom of the early 1990s entirely, and its landholdings in Hong Kong will be fully developed by 2002. Current projects include only Festival Walk, a $650 million office and shopping complex developed with Citic at the Kowloon Tong mass transit terminus, and Shiu Wing, a development with Hong Kong's Sun Hung Kai Properties Ltd., in which Swire has invested over $1 billion. Not bad. But in contrast, companies such as New World Development Co. are investing billions in China and Hong Kong property.
The market would dearly love Sutch to sell a big piece of Swire to a red-chip firm. No, thank you, says Sutch--"our corporate structure now is just the way we want it to be." With the descendants of company founder and Liverpool merchant John Swire owning 49% of Swire Pacific voting shares, the company worries little about a takeover.
As for the pursuit of more ambitious real estate deals in China, Sutch, 52, only hints at his plans. "As the right opportunities present themselves, we will move into China property," says the Oxford University history graduate, an amateur pilot who rose through Swire to head Cathay Pacific before taking over as Swire chairman in 1992.
CHINA BUBBLE? Sutch is promising some change. After selling a small insurance operation, he will invest more in core industrial and trade businesses. Acquisitions in beverages and containers seem likely, and the company may expand its Asian operations in the mundane but profitable business of refrigerated warehousing and packing.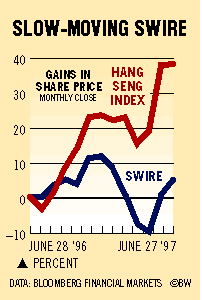 Sutch's conservative style risks missing out on big opportunities, but it may have advantages. With piles of cash and little debt, the company can just keep on cranking out modest but steady earnings growth while waiting for the China bubble to burst. "When the red chip frenzy ends and institutions that pay more attention to asset value get back in control of the market, Swire shares may start to do quite well," says Robert Sassoon of Crosby Securities Inc.
Another risk is that no one knows how effectively the company could rebuff an insistent mainland suitor looking to buy in. Yet Swire has survived for over 130 years in a turbulent part of Asia. Now the family is counting on Sutch's stewardship to bring the company intact into the next century.
Before it's here, it's on the Bloomberg Terminal.
LEARN MORE