Tokyo Aims A Scalpel At Health Care
As costs spiral out of control, a frantic search for solutions
Isamu Sakuma, 81, believes his government wants him dead. But he has committed no crime. He is just one of many elderly people in Japan. The retired factory worker has been paying into Japan's socialized health-care system for 65 years. Yet in June, the government passed a medical bill boosting fees for elderly patients. That prospect worries Sakuma, who lives on a $1,770 monthly pension. "By making elderly people bear more of the burden, the government is basically telling us to die," he says.
Such stories highlight a growing strain on Japan's fragile economic recovery--its health-care mess. Although medical costs now account for only 7% of Japan's gross domestic product, an aging population is expected to drive costs up to $1.2 trillion by 2025, or 15% of Japan's expected national income, compared with 13.2% for the U.S. now. Already, the government's health insurance system is laboring under $7.3 billion in debt. "We have to do something to avoid bankruptcy," warns a Ministry of Finance official. Yet the government, facing an estimated $2 trillion cumulative deficit this year, feels it cannot afford to funnel extra tax revenue into the health insurance fund. That leaves one way out: cutting the government's health-care costs drastically.
The new legislation, which also boosts out-of-pocket expenses for active workers, is probably the first step in a long, tortuous process. There is no quick fix. For one thing, opposition to further cuts is already mounting. It's hard to walk into a doctor's office without seeing some poster or leaflet against the government's new medical bill. For another, it's harder to solve the health-care crisis given Japan's many other problems. "The system was designed for a growing economy, but now it's not growing," says Teizuo Motoyoshi, an executive member of the Japan Medical Assn.'s board of trustees.
The Health & Welfare Ministry has also let ruinous inefficiencies creep into the health-care system. Japan is overhospitalized, with one hospital bed per 74 people in Japan, vs. one for 188 people in the U.S. Some 70% of Japan's hospitals are in the red, and 50 medical facilities file for bankruptcy every year, according to a recent Bain & Co. Japan Inc. study. Hospital patients stay an average of 35 days--six times longer than in the U.S. "We need to eliminate the unnecessary waste in the system," concedes Kozui Kida, a doctor at Tokyo Metropolitan Geriatric Hospital.
Japan also has developed a drug problem of sorts. Doctors are allowed to sell the drugs they prescribe: Little wonder the Japanese consume twice as many drugs per capita as Americans. Worse, consumers pay almost twice the U.S. price for pills, even after government efforts to force down prices.
As the pressure builds, business will be affected. With easy profits threatened by price cuts, Japanese drugmakers are taking a second look at foreign partners that can share research and development costs. For example Knorr, a subsidiary of Germany's BASF, bought a stake in respiratory-device maker Hokuriku Seiyaku Co.
Other companies see opportunities in the health-care crisis. Matsushita Electric Works Ltd., a maker of appliances and building materials, is branching out by erecting a $13.3 million nursing home in Osaka, complete with such luxuries as heated floors to lure customers. Another company, Nichii Gakkan Co., supplies medical-clerical temporary workers to hospitals that increasingly outsource jobs to cut costs. Nichii Gakkan's sales swelled by 17% last year, to $466 million.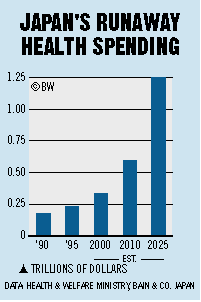 HIDEBOUND. American medical-equipment makers also look forward to a brisk business. The U.S. already has a $1.18 billion surplus in trade with Japan in medical equipment. But the Health Industry Manufacturers Assn. of the U.S. (HIMA) forecasts a 20% jump in exports to Japan of medical equipment this year, as hospitals seek new technologies to bring down costs. New testing equipment, for example, could cut some expenses dramatically. "There is no way out of their problems without using the latest technology," says Edward Rozynski, executive vice-president of HIMA.
Yet the health-care bureaucracy remains hidebound. It took one U.S. company five years to convince Japan's mandarins that its implantable cardioverter defibrillators are safe. It took two more years for the Health & Welfare Ministry to agree that hospitals buying the product would be reimbursed. The recent reforms are a start in controlling runaway costs. But a permanent cure is a long way off.
Before it's here, it's on the Bloomberg Terminal.
LEARN MORE