Now Playing On Screen 29...
Megaplexes are taking over, driving out the smaller chains
In Ontario, Calif., a dusty suburb 40 miles east of Los Angeles, moviegoing has become a competitive sport. On one side of the two-lane road that winds through the giant Ontario Mills shopping mall, the AMC offers 30 screens that include Speed 2: Cruise Control and Liar Liar. On the other, Edwards Cinemas counters with Batman & Robin, Austin Powers, and Con Air on its 22 screens. Even on a Sunday, with 90,000 fans diverted to nearby California Speedway, the parking lots are full. "The great thing is you can't get shut out," says Laura Placo, scanning start times for The Lost World: Jurassic Park, showing on no fewer than eight screens and just minutes apart at AMC and Edwards.
The Megaplex Age is coming. At a time when the average U.S. multiplex theater offers about five screens, exhibitors are scrambling to build theaters with as many as 30. The boom will transform the way consumers pick and watch their movies. And with each megaplex costing upwards of $30 million, it's a game for giants. "It's becoming a capital-intensive business," says Michael L. Campbell, chairman of Regal Cinemas Inc., the nation's fifth-largest chain, with 169 theaters and 1,403 screens. "Middle-tier companies with limited resources have to wonder how they are going to play in this game."
Even the giants may find the going rocky. The number of screens is growing far faster than box-office grosses. Hence, each screen is taking in less. Chains have been trying to push up ticket prices but are concentrating on concession sales and cutting costs to compete. And they are consolidating: Toronto-based Cineplex Odeon Corp. has confirmed that it is in talks to merge with Loews Theaters, a 900-screen New York-based division of Sony Corp. The deal, a stock transaction said to be worth nearly $200 million, would create the second-largest chain in North America, with nearly 2,500 screens in the U.S. and Canada. It would be particularly strong on the East Coast and in Chicago.
Campbell's Regal intends to be one of the surviving giants as well. It soon will close a $200 million deal to buy Cobb Theaters' 643 screens. From its strongholds in the Southeast, it plans to add 1,100 new screens at a cost of $150 million and convert itself to a chain of mostly 16- to 24-screen multiplexes.
More, bigger multiplexes are also planned at AMC. It wants to convert all of its theaters to 14- to 30-screen megaplexes and will spend $509 million through 1998 to add 725 new screens. Carmike Cinemas, National Amusements, and Cinemark USA also are planning to build large multiplexes.
And more mergers are likely. Already, the largest 3% of the chains control over 60% of the nation's screens, figures Cowen & Co. analyst Paul C. Marsh. But the economies of scale from size and regional concentration make consolidation all but inevitable.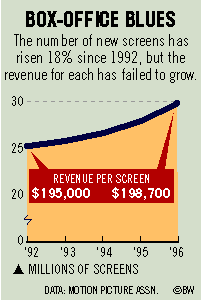 POPCORN POWER. The largest megaplexes wield considerable clout when it comes to negotiating with studios to get the most promising movies. The chains pay up to 90% of their ticket sales for a blockbuster in its first weekend. But showing hot new films on several screens at once can boost admissions and concession sales. Attendance per screen is 38% higher at AMC's 16-plexes than at its smaller theaters, and revenue from ticket sales and concessions runs as much as 10% higher.
Keeping the audiences coming is key to theater survival, and despite the cost of megaplexes, theater execs see a payoff. New and upgraded facilities with lots of screens and such amenities as baby-sitting services and cappuccino bars stand to grab more consumers and keep them there longer. "People still need to get out of the house, but they are more picky about where they want to spend their time," says Philip M. Singleton, president of AMC's theater unit. For theater chains, the idea is to get them into a multiplex instead of a video store.
Before it's here, it's on the Bloomberg Terminal.
LEARN MORE