More Phone Fun From Quintel
With no Wall Street following to speak of, Quintel Entertainment (QTEL), a little-known provider of automatic phone answering and telephone amusements--horoscopes, tarot-card readings, and live psychic consultations--has nearly doubled this year, to 15 a share. The reason is simple: Sales are on a tear, and earnings climbed from 51 cents a share in 1995 to 76 cents last year--and are expected to hit $1.17 this year. That's not all. Soon, "the company is expected to sign a blockbuster deal with HFS, a global franchiser of hotels and other services," says a hedge-fund manager who has bought shares. "This deal will be a home run for Quintel, because it will be able to tap into the HFS database of 50 million customers," he asserts, to market its phone services.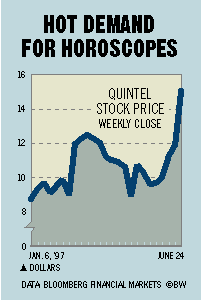 Quintel has its own database of 30 million customers. Quintel signed a marketing pact in 1996 with AT&T, whereby AT&T can offer Quintel services to win back customers who have switched to other phone companies. This AT&T link has upped sales in a big way. AT&T pays Quintel $60 to $70 for every customer it brings back.
With the HFS connection, Quintel's database balloons, which means it will help AT&T win even more subscribers. And more customers will let Quintel and HFS tap into other markets.
One money manager, who figures Quintel is worth 25 a share, says earnings estimates are very conservative. Quintel CEO Jeffrey Schwartz says at its current rate, revenues could hit $170 million this year, with cash flow of $3 million to $4 million a month.
Before it's here, it's on the Bloomberg Terminal.
LEARN MORE