Ever heard of "distributed power?" No--it's got nothing to do with handing over political clout to the powerless. It refers to small-scale power generation sited closer to consumers and competing directly with the huge utilities. Bringing generation close to end users makes distribution cheaper.
It's "one of the fastest-growing industry sectors in the country," notes money manager Alan Gaines, who focuses on energy investments. One pure play is U.S. Energy Systems (USEY), which has acquired two geothermal co-generation plants in the state of Nevada, according to Gaines, who heads the investment firm of Gaines, Berland. Taken together, the two plants produce 8 megawatts of electrical power, using hot water from within the earth as an energy source.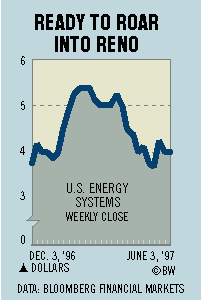 CEO Richard Nelson expects U.S. Energy to get a contract to supply power to the city of Reno in mid-June and to start the work by the summer. Gaines figures this development will add $1 a share to U.S. Energy's bottom line by 1999. He expects earnings of 55 cents a share for the year ending Jan. 31, 1998 and 80 cents for 1999 (excluding the Reno project), up from 1997's 17 cents.
In the meantime, U.S. Energy has been supplying energy to some colleges and shopping malls, including Plymouth State College in New Hampshire, the Lehi co-generation project in Utah, and Bluebeard's Castle Resort in the U.S. Virgin Islands.
Gaines says the stock, trading around 4 a share, is "moronically cheap."
Before it's here, it's on the Bloomberg Terminal.
LEARN MORE