Small Biz Gets A Break At The Bank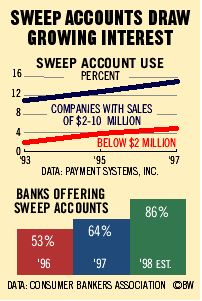 For years, small companies with financial savvy have asked banks for the sweep accounts only offered to companies with big balances. Now, banks are being pushed by competition from such nonbanks as Merrill Lynch & Co. to offer sweeps to small players, while technology has cut administrative costs. A sweep boosts earnings by moving money automatically from low-interest accounts into vehicles offering higher returns, such as mutual funds. (Downside: Returns aren't guaranteed and deposits aren't FDIC-insured.) Terms vary widely and the picture is changing, so shop around. Some banks have no minimum balance; others require as much as $100,000. Fees can run from $20 to $150 per month. Bankers say if your average balance is less than $5,000 you won't earn enough to pay the fees.
For an extended, online-only version of this story, see "Sweeps Aren't Just for the Big Guys Anymore."
Before it's here, it's on the Bloomberg Terminal.
LEARN MORE