I'll Have A Double Merger Mania, Please
Grand Met-Guinness means more liquor linkups to come
They weren't exactly crying into their Laurent-Perrier champagne. But at a private dinner at London's Dukes hotel in April, Grand Metropolitan PLC Chairman George J. Bull and Tony Greener, chairman of Guinness PLC, were well aware of their common problem. For years, shares of both companies had lagged the market. The main reason: sluggish sales and thinning margins in their liquor businesses. About halfway through the meal, Bull turned to Greener and asked: "Perhaps the time is right to talk about a merger?"
The answer to that question is now hitting the $55 billion global branded liquor industry like a stiff double. The merger of Grand Met and Guinness, announced on May 12, creates a food and drinks powerhouse with a total of $22.2 billion in sales in 1996. In liquor, the new company has more than double the market share of its nearest rival, Allied Domecq PLC (chart). And it ranks as the world's seventh-largest food company, alongside McDonald's Corp. and Campbell Soup Co. While investors cheered, pushing the combined companies' market value up more than $5 billion, to $38.6 billion, rivals immediately began griping about the "anticompetitive" move--and predicting an industry shakeout. Concedes Christopher Hogg, chairman of Britain's Allied Domecq, maker of Beefeater Gin and already rumored as a takeover target: "It's a new world."
BRAND POWER. No wonder he and other execs are concerned. The new Grand Met-Guinness giant, GMG Brands, will control nearly half the worldwide Scotch whiskey market through brands such as Johnnie Walker and J&B, as well as sell two out of every three bottles of premium gin in the U.S. Perhaps more worrying, GMG is better positioned than many to grow in emerging markets where liquor, beer, and wine sales are surging. Guinness brings an extensive network in Thailand and Korea, where sales have been growing 15% a year.
Grand Met and Guinness are betting the key is owning the leading brands and a broad distribution network. That's giving other players pause. "Anytime two of the biggest players in an industry consolidate, everyone examines their position," says Seagram Vice-Chairman Robert Matschullat. The merger may spur his company to scoop up smaller players or liquor brands. "If they don't feel they can go it alone, we might be a possible partner," Matschullat says.
Allied Domecq is one possible target. Following the GMG deal, its stock shot up 4% on bid talk. And its performance has been lackluster: Allied's profits were flat at $514 million, on sales of $318 billion in the six months leading up to Feb. 28. Analysts say Seagram could afford to buy Allied. But distribution linkups between the two companies would be a cheaper alternative. Matschullat declines to comment.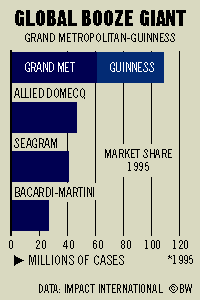 Another company looking to consolidate could be France's LVMH Mot Hennessy Louis Vuitton. LVMH Chairman Bernard Arnault, who controls 14.2% of Guinness' shares, was the lone vote on either company's board against the deal. He voted against it shortly after his alternative proposal was shot down by both boards: a three-way merger between Guinness, Grand Met, and LVMH's drink's unit Mot Hennessy. Guinness owns 34% of Mot Hennessy and distributes its champagne and cognac. Now, industry sources say, Arnault may approach Suntory Ltd. or another Asian liquor company as a potential partner or investor. Such a linkup could be aimed at making Mot Hennessy a more attractive acquisition for Guinness or another buyer. Says Tim Ambler, a senior fellow at the London Business School and former joint managing director of Grand Met's spirits division: "Arnault will try to gain an advantage."
To be sure, the Grand Met-Guinness merger faces hurdles. It still must undergo the scrutiny of antitrust authorities in the European Union and the U.S. GMG may be forced to sell off some brands, but most analysts expect the deal to go through. For smaller boozemakers, it may be time for another round.
Before it's here, it's on the Bloomberg Terminal.
LEARN MORE