Canada: Where Rates Have Nowhere To Go But Up
Sooner or later, the Bank of Canada is going to have to raise interest rates. The question is: How long can it hold out?
Fallout from the Federal Reserve's Mar. 25 hike in U.S. interest rates is clobbering the Canadian dollar, which is already down 4% from its January high of 74.8 U.S. cents (chart) to 71.7 cents on Apr. 23. That's close to the low of 70.4 cents hit just before the 1995 vote on Quebec independence. The reason: Official Canadian rates, at 3%, are now an unprecedented 2 1/2 points below their U.S. equivalents, decreasing the attractiveness of Canadian securities.
Still, the Bank of Canada is resisting the financial markets' call for higher rates. With Prime Minister Jean Chretien expected to call national elections soon, the central bank will be reluctant to roil the political waters. It also believes that Canada's low inflation, new fiscal discipline, and labor-market slack allow room to maneuver more independently of the Fed. But given the huge spread between Canadian and U.S. official rates, that leeway is all but spent, especially if a strong U.S. economy forces further Fed hikes.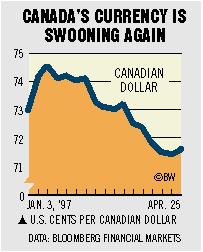 The Bank's problem is that the weaker currency makes an already-loose monetary policy even more accommodative. That's beginning to fuel concern about future inflation, which was running at 2% in March--below the U.S. rate. Compounding the problem is Canada's resurgent economy. Booming demand is drawing in costlier imports and absorbing spare capacity. Fueled by low interest rates, first-quarter domestic demand appears to have matched the fourth quarter's 7% annual growth rate. And a robust U.S. economy is lifting exports.
Looking ahead, strong demand is expected to spur inventory rebuilding and further gains in output and employment. March job growth was stronger than expected, and the jobless rate dipped from 9.7% to 9.3%. With the economy projected to grow 4%-5% in the first half, joblessness will continue to decline, and pressure on the Bank of Canada to lift rates will grow.
Before it's here, it's on the Bloomberg Terminal.
LEARN MORE