For Lucent, A Shining Moment
Slimming down has helped the AT&T spin-off thrive
Not all AT&T shareholders need be gloomy these days. Granted, the company's shares are down 16% so far this year, and few analysts expect an uptick soon. But if you were holding AT&T's stock before its "trivestiture" on Sept. 30, you've done nicely with the equivalent shares you received in Lucent Technologies Inc., the former equipment-manufacturing branch. Despite the grim market for high-tech stocks, Lucent's stock has risen 16% this year, to around 54, and a stunning 100% since the initial public offering of 18% of its stock, for $27 a share, on Apr. 4, 1996 (chart).
Why the difference? While AT&T must struggle with new competitors, regulatory uncertainty, and the high costs of entering new markets, Lucent remains what it always was--the largest supplier of phone network equipment in the world. It has some 10% of a $200 billion global market that is blessed with costly barriers to entry and high margins. The increasing competition and deregulation that is proving so expensive for phone service providers is a boon to suppliers. The telecom equipment market is growing by 10% to 12% a year, vs. 6% for long-distance calling revenues, AT&T's primary market.
PENT-UP DEMAND. And Lucent has managed to make a good thing better. Since winning its independence, Lucent has reduced costs and racked up major wireless and network upgrade contracts from companies as diverse as SBC Communications Inc. and NextWave Wireless.
The work has paid off: On Apr. 3, the company announced that earnings for its second fiscal quarter, ended Mar. 31, should reach $55 million to $65 million, double most analysts' estimates, on revenues of about $5.1 billion. The year before, the company lost $103 million after restructuring charges on sales of $4.6 billion. "We are building a high-performance growth company," enthuses Lucent Chairman Henry B. Schacht, former CEO of Cummins Engine Co.
Some of that growth was inevitable: The spin-off opened the door to pent-up demand. Local phone companies and long-distance carriers were increasingly reluctant to order equipment from AT&T, a company that also was becoming a competitor on the services side. Once Lucent was freed from AT&T, so were the order books. The equipment maker's revenue growth went from 8.3% in 1995 to 13.4% in the first nine months of 1996.
The breakup also allowed Lucent to start hacking expenses--the highest in the industry. It is two-thirds of the way through the process of cutting 23,000 jobs from its workforce, and its sales, general, and administrative costs were pared to 24% of revenues last year, from 25.4% in 1995. The cost-cutting is already helping the bottom line. Lucent's gross margins rose to 45.9% in the fiscal first quarter, from 43.3% pre-breakup. "That should help their results over the next few years, not just a few quarters," says Bear, Stearns & Co. analyst Alex M. Cena.
There is another striking difference between Lucent and its former parent. While AT&T insiders say morale there is as low as it has ever been, Lucent employees are jazzed. A recent survey of 64% of the company's 121,000 employees by an outside polling firm found that 79% are optimistic about the company's future. On the down side, 53% say Lucent is still not quick to take advantage of new opportunities.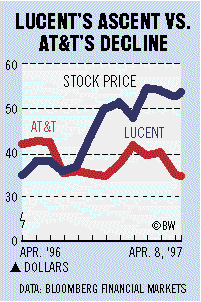 One such opportunity could be the data networking market, where Lucent has only a marginal presence. Schacht says the company plans to increase its offerings in this area, but not in the highly competitive market for routers and hubs. "There's no sense in our replicating what other people have done," says Schacht. Instead, he wants to focus on the next generation of networking technology, such as powerful data switches for the Internet. So he and President Richard A. McGinn spend three hours every other week at Bell Labs and are devoting 11% of revenues to research and development.
Schacht also wants to beef up the software side of Lucent's business, which carries higher margins than hardware. One of Lucent's key software products, a program that allows callers to keep their local phone numbers even when switching carriers, is starting to win orders as local competition draws near--BellSouth Corp. and Ameritech Corp. have both recently purchased the software. AT&T may be wincing from all the new competition, but it gets little sympathy from Lucent shareholders.
Before it's here, it's on the Bloomberg Terminal.
LEARN MORE