Gotcha Again! Surprises From The Expansion That Just Won't Quit
Consumers are fueling new momentum that could last through spring
What slowdown? Three months ago, economists surveyed by BUSINESS WEEK confidently predicted that the economy would cool off from its nearly 3% growth rate in the first three quarters of 1996. For the fourth, they projected a sedate 2.2% pace, with that modest gait continuing through the first half of 1997.
Not even close. After expanding nearly 4% at the end of last year, the economy is easily on its way to growth of better than 3% in the first quarter. And because of a new vibrancy in the labor markets, consumers are leading a push on domestic demand that could fuel greater-than-expected economic growth in the second quarter as well.
Indeed, by all signs, consumer-led demand is spurring a mini-growth cycle, similar to the pattern in 1994. Then, the impetus was the delayed effect of 1993's sharp drop in long-term interest rates. Now, the thrust is coming from the strongest job market of this expansion, with moral support, at least, from a booming stock market. Robust spending is boosting output and creating the need to build up inventories, while output gains are igniting growth in jobs and incomes, which feeds more spending. This virtuous cycle is evident in the latest reports on retail sales, housing starts, inventories, and industrial production.
The economy's surprising strength is sure to be a hot topic at the Federal Reserve's policy meeting on Mar. 25, and because of it, chances for an interest-rate hike at that caucus have increased. But even amid very tight labor markets, there are still few signs that strong demand for goods and services is straining the production process. However, those strains seem likely to start showing up in coming months.
THE BUZZ AT THE FED'S MEETING undoubtedly will center on the current rebound in consumer spending (chart) and its potential implications for future inflation. Not only did February retail sales jump 0.8%, but January spending has been revised sharply higher, to show a gain of 1.5%--more than twice the pace of the originally reported advance. Through February, real retail sales for the quarter are rising at the fastest clip since 1994, at the end of the last growth spurt.
After already climbing at an annual rate of 3.4% in the fourth quarter, real consumer spending on goods and services appears to have increased in the 4%-to-5% range in the first quarter. That's a powerful thrust for overall growth from two-thirds of the economy.
That stride will be difficult to maintain in the second quarter, however, since consumers tend to take a breather after such spending sprees. And the surging stock market means equity investors face big tax payments to Uncle Sam and state coffers by Apr. 15. But with labor markets strong, the fundamentals under continued spending will not go away anytime soon.
For example, in the first quarter, consumers' real aftertax income may well rise even faster than spending. January income already has risen at an annual rate of 4% from the fourth-quarter level, and growth in the 5%-to-6% range for the full quarter seems likely, especially given the record rebound in real weekly earnings in February. Some households are also getting more cash from a burst of early tax refunds. Moreover, consumer optimism in March is the highest in at least two decades, based on the University of Michigan's preliminary index of consumer sentiment.
CONFIDENT HOUSEHOLDS and a home-mortgage rate that remains under 8% are the chief reasons why housing continues to be one of the most surprising sources of the economy's strength. Housing starts surged 12.2% in February, to an annual rate of 1.53 million, the highest in three years (chart). February's warmer-than-usual weather overstated the gain, but housing is on its way toward adding to economic growth in the first half. The generally held belief as of late last year was that it would contribute nothing or even detract from it.
However, the March survey by the National Association of Home Builders showed sizable pickups in buyer traffic through model homes as well as in current sales, with sales expectations holding near the higher levels of recent months. The trade group's overall housing-market index, a composite of all three measures, has been slowly rising since November.
Capital spending by businesses on new buildings and equipment is unlikely to fade away, either. On the contrary, commercial building is gaining strength as vacancy rates drop, and outlays for equipment typically lag behind the business cycle. Spending slowed last year as companies saw demand fade when the economy eased in 1995. Now, with the economy picking up, the need for new capacity will lift 1997 spending.
ALTHOUGH CONSUMERS MAY STOP to catch their breath in the second quarter, production should keep the economy rolling. That's because inventories are not growing at a rate that allows businesses to keep up with demand, and a faster rate of stockpiling seems inevitable. Last year, inflation-adjusted demand for goods rose 4%, while inventories increased only 1%. In January, stockpiles held by manufacturers, wholesalers, and retailers rose 0.1%, before price adjustment, even as sales jumped 1.2%. The ratio of inventories to sales fell to a record low of 1.37.
With inventories so lean, industrial production will continue to increase, if not speed up. Output of factories, utilities, and mines rose 0.5% in February, but the advance was held back by a drop in utility output, which was depressed by February's mild weather. Production in manufacturing jumped 0.8%, more than making up for January's weather-related drop of 0.2%.
An emerging problem, though, is that factory output is starting to grow faster than new capacity is coming on line (chart). In fact, capacity growth seems to be easing a bit, the result of last year's slowdown in capital spending. That means the capacity utilization rate in manufacturing, which rose to 82.5% in February, may soon enter the 83%-to-84% range, where production and distribution bottlenecks often create pricing pressures.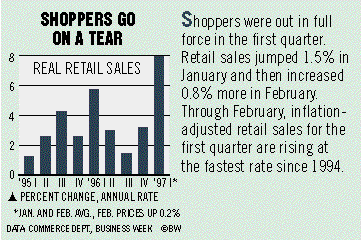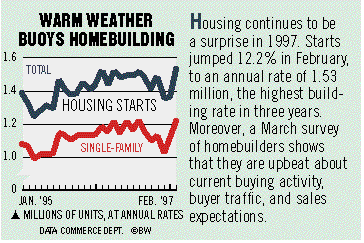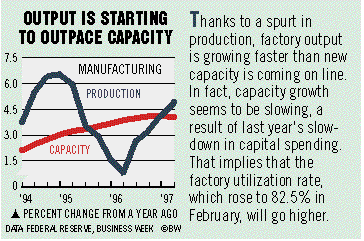 For now, those pressures look nil. Producer prices of finished goods actually fell 0.4% in February, and core prices, which exclude food and energy, dropped 0.1%. Inflation at the consumer level is equally benign. Total consumer prices for goods and services increased 0.3% in February, while core prices edged up just 0.2%.
Yet even with the current low rate of inflation, capacity utilization rates bear watching. To maintain this virtuous cycle, demand growth must stay in sync with the ability of suppliers to satisfy it, and you can be sure the Fed is closely watching this balancing act. That's because, as forecasters both in and out of the Fed will tell you, the cost of misjudging the economy's momentum in 1997 could be underestimating where inflation will be in 1998.
Before it's here, it's on the Bloomberg Terminal.
LEARN MORE