Time Can't Wait For Tambrands
Its plan to recapture the market may be too little, too late
Time was, being the CEO of Tambrands Inc. was one of the cushiest jobs in the universe. In the 1950s and 1960s, the company was the Microsoft of tampons, dominating an industry it created with a 90% market share for its Tampax brand and a product that women felt actually improved their lives.
Fast forward to 1997: Tambrands, with sales of $662 million, still enjoys a fabulous brand name and fatter margins than Gillette Co. and Coca-Cola Co. But market share has shrunk to around 52%, thanks to nimbler rivals that have kept up a barrage of product innovation and aggressive pricing. Nearly three years into his stint as CEO, former Colgate-Palmolive Co. marketer Edward T. Fogarty concedes that Tambrands has hit "a bump in the road."
REVIVED RUMORS. Some would call it more of a pothole. Fogarty's plan to transform a languishing manufacturer living off an old brand name into a marketing-driven innovator clicked at first, but a price war last year with Playtex Products Inc. sliced margins, cut share, and helped force Tambrands to take a third-quarter, $46 million restructuring charge. Even without that charge, 1996 operating income fell 14%, to $139 million, on sales down 3%. Although strong cash flow can keep the White Plains, (N.Y.) company plodding along, a prolonged downturn could revive old rumors that it's ripe for a takeover.
Investors, meanwhile, have voted with their feet. The stock, which hit 51 3/4 on Mar. 5, has fallen 20%, to about 41, even as the Standard & Poor's 500-stock index set records. Those remaining console themselves with a fat dividend and hopes of an eventual takeover. "We've suffered so long, we may as well hold on," says Christopher H. Wiles, a portfolio manager at Pittsburgh-based Federated Investors, which holds 907,000 Tambrands shares. He thinks the company will net $93 million this year, on sales up 4%, to $690 million.
Why is it so hard for the company that introduced the first tampons, a product with great brand loyalty, to hold on to its customers? Simply put, Tambrands has suffered from outdated products, poorly marketed. Neither of the two CEOs preceding Fogarty, Edwin H. Shutt Jr. or Martin F.C. Emmet--both of whom were forced out by the board--did much to improve a product that had changed little since its 1933 patent. Meanwhile, rivals such as Johnson & Johnson and Playtex were rolling out tampons that were easier and more comfortable to use.
Fogarty, 60, arrived in 1994, brimming with plans for new products and sharper marketing, based on his years heading Colgate's U.S. and Canadian business and Playtex' international unit. "He's the ultimate work-hard, play-hard CEO, with ideas a mile a minute," says Michael K. Lorelli, who headed the Americas division of Tambrands until last August.
Fogarty moved to fill out the Tambrands product line with such offerings as Satin Touch, a tampon with a smooth cardboard applicator, and all-cotton Naturals. He also put in place a $15 million packaging redesign. The results were promising: Unit share climbed from 52% when Fogarty took office to 54.4% by 1995's third quarter.
WAR CARNAGE. But Playtex soon launched a devastating price war. In the nine months ended last September, Tambrands gave back all of its newly gained market share, while industry sales flattened as consumers stocked up. The war abated in the third quarter, but not before Tambrands announced a restructuring that closed four of nine plants and cut the workforce by 17%, to 2,800. Now, the company is starting to rebuild share, but it learned a hard lesson: Years of brand neglect had left it vulnerable to one of the oldest weapons in the marketplace.
Fogarty rejects the obvious fixes. Attaching the mighty Tampax name to other products would leverage the brand, but Fogarty says it would divert management attention from the company's biggest problem--and biggest opportunity: increasing the market for tampons here and overseas. Nor does a sale look likely. Industry sources say that before hiring Fogarty, the board shopped the company to potential buyers, including Avon, but found no takers. Although Fogarty says he would have to listen to any serious offer, he sees few plausible buyers. Shareholders seem to agree. "You'll see me do a happy dance if there's a deal," says one institutional investor, but adds that he's not banking on it.
Still, expanding is no easy task. In developing countries, where fewer than 1% of women use tampons, social barriers against the product are often intense. And gearing up in new markets isn't cheap, since Tambrands can't leverage its manufacturing costs with other products. "When there are no other products, it's prohibitively expensive," says Joel E. Smilow, retired chairman and CEO of Playtex and Fogarty's onetime boss. Tambrands is strong in Europe, but making headway in that mature market will be tough.
Back at home, Fogarty warned investors in January that Wal-Mart, its biggest customer, is rolling out a private-label brand. But Tambrands will unleash a $60 million ad campaign in March that will aim to increase tampon usage by touting their safety at night, when many women use pads. Increasing the market could help with a recurring new-product dilemma at Tambrands: a tendency to cannibalize older products.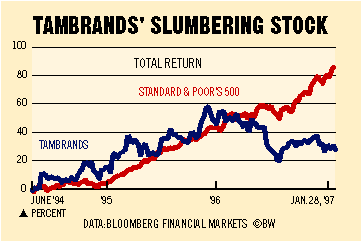 But that beats losing sales to someone else's good idea. Just look at Instead, a menstrual cup made by tiny New York City-based Ultrafem Inc. that can be worn twice as long as a tampon. The first radically different product to hit the industry in years, it has already captured more than 4% of the market in the Northwest since its August rollout--a sign that women are looking for something better. Fogarty says that with its great brand name, Tambrands is committed to finding the next breakthrough product. "If it doesn't come from us, that way lies extinction," he declares. More than ever for Tambrands, those are words to live by.
Before it's here, it's on the Bloomberg Terminal.
LEARN MORE