The Smudgy Legacy At&T's New Prez Left Behind
Ailing stock, sullied image at Donnelley. Was Walter to blame?
Timing is everything. When AT&T tapped John R. Walter as president last October, the then chairman of R.R. Donnelley & Sons Co. was hailed by those who knew him as an energetic, bold leader who had shaken up an old-line outfit and warmly embraced technology. The choice wasn't popular on Wall Street, true. But Walter's backers maintained that he was up to the job of enlivening the lumbering phone giant.
Walter seems to have jumped at the right moment. Now, his legacy at Donnelley, the Chicago printer where he had spent his entire 27-year career, seems a bit smudged. Donnelley was expected to report on Jan. 23 flat sales of $6.5 billion and a 25% drop in earnings, to about $225 million--below the level of 1989, when Walter became chairman. Margins are less than half the 7% they were running in the late '80s. The stock has fallen sharply--down 20% last year, while the Standard & Poor's 500-stock index was up 20%. Many of Walter's vaunted expansions overseas look like long-distance bets, and forays into the Digital Age are being unwound. Most stunning to a company long respected for its civic virtues, Donnelley must contend with a boycott triggered by allegations--fiercely denied--of age and race discrimination.
COLD FACT. Daunting, indeed, for the next CEO, who's most likely to be chosen in the next month or two from the outside. Walter has left behind undeniable strengths--a youthful team and modern plants with leading market shares in magazines, catalogs, and phone books. And for now, Donnelley family members, holders of 18% of the stock, are patient. "We're very comfortable now," says Vice-Chairman James R. Donnelley, "but we'd be concerned if the stock was at this level in three or four years."
Company insiders and some investors don't think it should take that long to get back on track. But few expect more than a modest upswing in 1997. Whoever takes on Walter's job must come to grips with a simple fact: The promise of a high-tech, high-growth, global future is being replaced, for now, with the sobering reality of a company managing its way through a high-cost, mature present. "There will be a higher level of discipline around financial management than there was before," says Jonathan P. Ward, who heads the commercial printing unit. "This is about [increasing] margins rather than [revenue] growth."
That's welcome news to disillusioned investors, who have long complained that Donnelley failed to deliver on its targets. "Walter oversold the story," says Kermit Eck, portfolio manager for Cooke & Belier Inc., holder of 2.2 million shares. "We need a CEO more realistic about growth prospects."
Those prospects aren't exciting--perhaps 1% to 3% growth in its domestic printing operation. Executives pledge to be far more stingy about building plants and adding equipment. It's likely the three-unit printing operation--catalogs and magazines, phone books and financial services, and international operations--will be consolidated. And driving home the new focus on returns, some 300 managers this year will begin seeing up to 70% of their compensation tied to return on capital and stock price.
What went wrong? Spooked--perhaps rightly so--by the prospect that traditional printing's days are numbered, Donnelley rushed into electronic publishing, software disk manufacturing, and digital processes. Meanwhile, fueled by still respectable growth in its core business, it spent $300 million in 1994 and 1995 building plants or buying stakes in such developing markets as Poland, China, Latin America, and India. Investors generally bought in. The idea: Capture the printing of disks and accompanying guidebooks for clients such as Microsoft Corp. while mining high-growth overseas print markets.
UNWINDING. Partly through bad luck, bad timing, or poor execution, the strategy came unstuck. Donnelley figured it could marry its printing of software manuals and disk production with a seller and installer of desktop software to form a kind of one-stop shop. But the mid-'95 union of Donnelley's unit with Corporate Software Inc. to produce a $1.6 billion company was hobbled by culture problems and the sudden plummet in printing and disk businesses. The group, called Stream International Inc., lost an estimated $10 million last year.
Now, many of the new ventures are being unwound--and Walter himself initiated much of the cleanup last year, when Donnelley took $560 million in write-offs. Stream is being split into three businesses for sale. Total value: perhaps $400 million to $500 million. A direct-mail outfit, Metromail Corp., was sold to the public last summer, just months before another high-tech unit, Donnelley Enterprise Solutions Inc. "All the things being disposed of were supposed to be the wave of the future," snaps Dean Witter Reynolds Inc.'s James D. Dougherty.
While Donnelley hunkers down to its core printing business, it finds itself battling charges of discrimination and a boycott initiated on Jan. 15 by the Reverend Jesse Jackson's Rainbow/PUSH Coalition. Former workers filed two suits in Chicago in 1995 and 1996, alleging age and race discrimination in the handling of employees laid off after a Chicago plant was closed in 1994. One charge: 31% of white employees were transferred to other sites, while only 1.2% of blacks were. (Many of the blacks were temporary workers.) Executives steadfastly deny any discrimination and note that Donnelley supplemented its traditional severance package in the Chicago closing.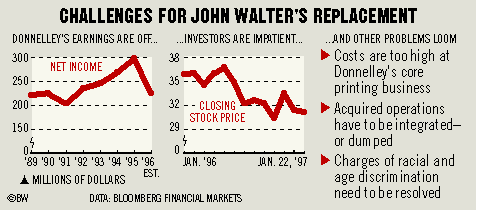 Through a spokeswoman, Walter said he would not speak about his record or the challenges at Donnelley. His only comment: "AT&T & Donnelley have zero tolerance for discrimination of any kind. I was extremely disturbed and upset to hear about the incidents. If true, they are completely against the policies of Donnelley and my personal beliefs."
The charges have sparked a reexamination of employment practices and relations with minority suppliers. The company recently hired workforce-diversity consultant Alexander & Associates Inc. James Donnelley himself has written family members to reassure them--and to reaffirm, as he reads from a two-decade-old book by the late Gaylord Donnelley, a former chairman, that the company has always insisted on "affirmative action." Now, the task is to restore confidence to all employees and investors.
Before it's here, it's on the Bloomberg Terminal.
LEARN MORE