Can This Minivan Dent Detroit?
Toyota may finally have come up with the right formula
Toyota isn't accustomed to playing the laggard. Its small cars, family sedans, and luxury models virtually define their market segments. But when it comes to the $28 billion U.S. minivan market, mighty Toyota Motor Corp. has been a nonstarter. Sales of its Previa minivan peaked just above 50,000 units in 1991, shortly after it hit the market. As more appealing competitors crowded in and Previa's base sticker price soared above $25,000, Toyota's minivan sales slumped to 8,500 last year.
Toyota vows to change things with its 1998 Sienna minivan, which will be built in Georgetown, Ky. Analysts are buying Toyota's prediction that it will increase its minivan sales sixfold, to roughly 55,000 vehicles, in 1998, Sienna's first full year, and eventually to 65,000 annually. Says J. Davis Illingworth, senior vice-president at Toyota Motor Sales USA Inc.: "We're convinced we've hit the target squarely."
HOLDING LOYALISTS. Sales in the crowded minivan segment are stalled at 1.2 million vehicles annually, so Toyota's gain will have to come from weaker players, including Japanese imports. Sienna, scheduled to arrive in dealer showrooms late this year, could also dent Detroit's 91% share of the U.S. minivan market. Says Christopher W. Cedergren, an automotive consultant at Nextrend, based in Thousand Oaks, Calif.: "Sienna is the first serious Japanese threat in the compact-van market."
That's because Sienna was designed for American tastes. Unlike the Japanese-built, teardrop-shaped Previa, which was derided by analysts as "overpriced and underpowered," the new minivan, unveiled this month at the North American International Auto Show in Detroit, boasts front-wheel drive, a V-6 engine, and conventional styling, while sharing many chassis components with the Camry.
Toyota executives promise Sienna will be priced lower than the Previa so it can compete with Chrysler Corp.'s industry-leading Dodge Caravan, which starts at just under $18,000. "I think it's closer than they've ever been," says Jacques A. Nasser, president of Ford Motor Co.'s auto operations. "They've clearly tried to move the product more mainstream than the Previa."
The mainstream is where Sienna aims to be. Illingworth says Sienna should stop Toyota loyalists from leaving the fold when they want a minivan. It could siphon sales from Ford's Windstar, Nissan's Quest, Mercury's Villager, Mazda's MPV, Honda's Odyssey, and the new minivans from General Motors Corp. Honda Motor Co. will fight back in the fall of 1998 with a new Accord-based minivan. Predicts DRI/McGraw-Hill analyst Lincoln Merrihew: "It's going to be cutthroat."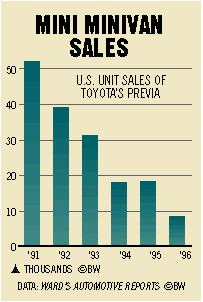 Before joining the scrum, Toyota studied the smashing success of Chrysler's minivans. Sienna duplicates everything from the plethora of cupholders to Chrysler's innovative driver-side sliding passenger door. Akihiro Wada, Toyota's worldwide product-development czar, says that as soon as he saw the extra door on Chrysler's new minivan at the 1995 Detroit auto show, he ordered his engineers to copy it. "It's a very good idea," he says.
Toyota execs downplay the idea that Japan is challenging Detroit. "I think the American public will look at Sienna as an American product that meets their needs," Illingworth says. And he isn't troubled by the competition: "I think there's always room at the top." The top, of course, is where Toyota likes to be.
Before it's here, it's on the Bloomberg Terminal.
LEARN MORE