Will This Chip Recovery Stick?
Manufacturers pull out of a slump, but trouble spots remain
The downturn was severe but the recovery was swift. After contracting for much of 1996, the semiconductor business is ending the year on an upbeat note. "We think the industry has bottomed out," says Brian O. Hilton, worldwide marketing director for Motorola's semiconductor group. Next year, he says, "looks a lot better."
The signs of recovery are unmistakable. On Dec. 9, the Semiconductor Industry Assn. reported that its November book-to-bill ratio--which compares three months of chip orders to shipments--showed positive growth for the second month in a row, after running negative for the first nine months of 1996. New chip orders in November rose 6.3% from October levels.
SEASONAL SPIKE. Relieved investors bid up semiconductor stocks 33% between Nov. 1 and Dec. 11. And projections for 1997 are modestly upbeat: analyst Daniel L. Klesken of Robertson, Stephens & Co. sees overall growth of 10%, down from the 30% increases of a few years back but a big improvement over 1996's 10.5% revenue decline. "There is a clear upswing ahead," says Jean Philippe Dauvin, chief economist for semiconductor giant SGS-Thomson Microelectronics Inc.
Why the improvement now? Credit the usual fourth-quarter seasonal spike, buttressed by steady growth in most segments of the PC business. PC makers have worked down the excess stocks of parts they carried into the first half of 1996 and are ordering again. "The inventory situation in the U.S. has improved substantially," says Vladi Catto, chief economist for Texas Instruments Inc.
Some parts of the semiconductor industry, however, are still looking grim. The weak spot: memory chips. A continuing oversupply is savaging prices. Even with higher unit sales in 1997, predicts the SIA, DRAM revenues are expected to fall from $24.6 billion this year to $21.1 billion in 1997, a 13.9% decline. Analyst Mel Thomsen of Pathfinder Research says DRAMs won't likely return to their fourth-quarter 1995 peak prices until mid-1998. One reason: many new chip factories are still set to open--especially in Taiwan--which will keep manufacturing capacity well ahead of demand. Some companies, however, are canceling or postponing new facilities. Micron Technology Inc. has scotched a new DRAM plant in Lehi, Utah, and several Asian producers have announced delays in equipping their new plants.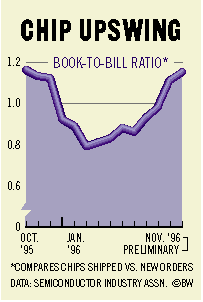 Meanwhile, most other segments of the semiconductor business are growing. Microprocessors remain strong: Intel recently said its fourth-quarter revenues could climb 24% to a record $5.7 billion, propelling 1996 sales past the $20 billion mark. Growth in the communications business, especially in networking and wireless devices--helped improve second-fiscal-quarter results at National Semiconductor Corp., says Patrick J. Brockett, executive vice-president for worldwide sales and marketing. But, cautions W.J. "Jerry" Sanders III, the chairman of Advanced Micro Devices, "cycles will always be with us."
One worrisome trend has already appeared: a fourth-quarter disappointment in home-PC sales. Last year at this time, overly-optimistic Christmas PC sales forecasts led to the huge inventory surpluses that sparked the nine-month correction. But softness in retail outlets such as Circuit City Stores Inc. and Best Buy Co. should be offset by PCs sold through the mail, says Robertson, Stephens' Klesken. If that's the case, then this is a semiconductor-industry recovery that could stick.
Before it's here, it's on the Bloomberg Terminal.
LEARN MORE