A Safe New World For Futures?
Commodities indexes are hot, and they're luring big investors
To many investors, commodity futures are the ultimate roll of the dice, with the odds stacked firmly against them. Novice players, smitten with the lofty leverage, usually lose their shirts if not their wallets. Many who have taken a chance on managed futures--the mutual funds of the commodity business--have had little to show for it. In recent years, returns have lagged well behind the gains from U.S. stocks. And scandals such as Sumitomo Corp.'s copper debacle have made potential investors even more nervous.
Now, some futures gurus think they have found a way to make commodity markets more palatable to risk-conscious investors: indexes. They are pushing programs that make it easy to bet on bullish trends in a broad array of energy, metal, and agricultural contracts. The result can be a relatively low-risk, well diversified portfolio. In the past year or two, indexed commodity investments have started attracting a following. "This is a sea change," says Steven Strongin, director of commodities research at Goldman, Sachs & Co. "It's getting serious attention from top-tier investors."
"MORE SENSE." In commodity-index investing, the most reliable indicator is the Goldman Sachs commodity index (GSCI), a weighted average of long positions in 22 exchange-traded futures contracts. Excluding short positions minimizes leverage and fees while capturing the upside of bullish trends. Since the GSCI was launched five years ago, investments linked to its performance have reached an estimated $3 billion, nearly all from high-level institutions. Harvard Management Co., for instance, has invested $300 million of the university's endowment and working capital in a GSCI-based program. Among individuals, only the very rich can afford to invest directly in programs geared for institutions. For small investors, it's possible to trade GSCI futures and options on the Chicago Mercantile Exchange. And Oppenheimer Funds is seeking regulatory approval for a GSCI mutual fund with a minimum investment of only $1,000.
Diversification is a big plus in GSCI-linked plays. For example, returns from commodities tend not to correlate with those in broader financial markets. When stocks and bonds go down, commodity investments have a reasonable chance of rising. Given the spotty performance of such traditional diversifiers as gold and real estate, "a broad basket of commodities certainly makes a lot more sense," says John B. Rowsell, research director at Credit Agricole Futures in Chicago.
Commodities seers also believe that global economic growth, especially rising incomes in East Asia, will push up commodity prices in the years to come. To be sure, volatility also will increase, as it did earlier this year: An incipient commodity boom sparked inflation fears before fizzling in the face of unexpectedly plentiful supplies. Still, booms could become commonplace, as demand for everything from corn to crude oil continues to expand. Because inventories of key commodities are tight, buyers will tend to overreact to temporary shortages, sending prices sharply higher. During this winter's early cold snap, for instance, lean stockpiles of petroleum led to sudden spikes in heating fuel.
For investors in indexed commodity products, those spikes can be highly profitable. As of Dec. 9, the GSCI has returned 32.5% in 1996, on top of a 20.3% return in 1995. Much of the gain came from rising prices in energy contracts, which represent more than half the index. Investors also benefit from the fact that contracts in the index often shoot higher just before expiration. That's because market players are willing to pay up for immediate delivery of commodities. As contracts in the index expire, funds are rolled into new contracts that are usually cheaper, because they're at least a month away from expiration. So even when commodity prices are flat, the index has booked profits simply by buying contracts early in their life cycles at a discount and selling them at the end for a premium.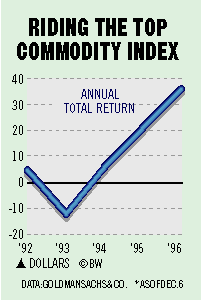 Commodity indexing has its share of skeptics. Some professional traders doubt that an index of long-only positions can make money over time, because prices tend to even out. It's a tough sell to pension-fund managers, too, who know their careers could be jeopardized if a derivatives-based investment blows up on them.
And to many, playing the commodity markets still sounds like investing in the pot at a poker game. "Investing in futures? That's the worst oxymoron I've ever heard in my life," sniffs E. Michael Metz, chief investment strategist at Oppenheimer & Co., which is unrelated to the firm launching the GSCI mutual fund. Overcoming futures' wild and woolly reputation may take more than an innocuous-sounding index.
Before it's here, it's on the Bloomberg Terminal.
LEARN MORE