Healing The Wounds Of Bucharest...May Take A While Like 20 Years
Bucharest was once known as the Paris of the Balkans. Today, it is a city of shadows, where nothing is quite as it seems. The cranes everywhere might lead one to imagine a boom akin to those in Prague or Budapest, but closer inspection reveals that hardly any construction is taking place. And Bucharest, to put it mildly, needs work, after decades of suffering a mix of neglect and architectural vandalism at the hands of the late, unlamented despot, Nicolae Ceausescu.
"It's important to remember how this city once was, so it won't be lost forever," says civil servant Lidia Moise, 33. She pulls out a print showing men in top hats strolling by prosperous-looking shops in the 1930s, when royalty filled the Athenee Palace hotel and Calea Victoriei was one of the most fashionable streets in Europe. Moise's office overlooks the crude imitation of the Champs-Elysees that Ceausescu slashed through the city center, wrecking tree-lined avenues in the process. This monstrosity, dubbed the Boulevard of Unity, leads to the even uglier Palace of the People, a vast, unfinished wedding cake. Although it houses Parliament and the odd conference, it remains largely empty and inspires endless debate over what to do with it.
The debate over the nation's direction seems equally unresolved, despite November's parliamentary and presidential elections. Infuriated that their country is being left in the dust by other Eastern European nations, Romanians ousted ex-Communist President Ion Iliescu and his Party for Social Democracy for the first time since the 1989 revolution. The next President will be former geology professor Emil Constantinescu, who leads a center-right coalition dominated by the Democratic Convention. The new government, pledging to boost privatization while fighting inflation, has its work cut out for it. Gross domestic product hit 6.9% last year but is slowing. Inflation, which tough monetary policy had cut to 28% in 1995, may be running at 60% by yearend.
WILD DOGS. So despite their longing for change, the citizens of Bucharest remain fatalistic. True, the city is livelier--shops and restaurants are plentiful--but it is crumbling almost as you watch. The metro, which suggests Dante crossed with Orwell, was finished only 15 years ago yet needs a complete overhaul. Public buildings are in a similar state of disrepair, while roads and sidewalks are packed with perilous crater-size potholes. Things get even worse during the long winter. Ice remains uncleared, while packs of wild dogs roam the streets, biting some 80 people a day.
Meanwhile, the cranes stand still--and not for lack of demand for new buildings. Residents and a growing number of foreign companies are so desperate for space that real estate agents say quality offices may zoom to $45 per square meter next year, against today's average of $30. Such an imbalance of supply and demand should set off a building boom, as in Prague and Warsaw, where foreign construction companies moved in and made a killing. But not in Bucharest, where torturous bureaucracy and unreformed land laws have scared them off.
All this hasn't stopped dreamers from proposing ambitious schemes. One involves the historic but neglected Lipscani area behind the National Bank. The other, dubbed Bucharest 2000, is aimed at integrating Ceausescu's legacy with the rest of the city. "We need to heal the wound Ceausescu inflicted," says Liviu Ianasi, an architect who judged the competition for the project earlier in the year. But healing will take time--20 years, by some estimates. Both schemes will cost billions of dollars, money that simply isn't there.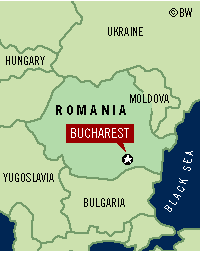 For impatient Bucharesters, a local entrepreneur has the answer: move to Corbeanca, or Green Paradise, just outside the city. Cristan Tantareamu, owner of the Prisma shopping complex near the international airport, is using his profits to finance a 25-hectare new town. In addition to providing villas for up to 10,000 people, he is to install water and sewer systems, build roads, and even landscape the area with a lake and oak forest. Says Tantareamu, who is getting no government support: "I work best on my own." Now, if Romania could just turn out more entrepreneurs like him.
Before it's here, it's on the Bloomberg Terminal.
LEARN MORE