Soccer Mom, Enter If You Dare
TSI is a one-sport sporting goods store--and it's booming
You might say Evan Jones was in the right place at the right explosion. Seven years ago, Jones left his job as a Prudential Securities investment banker in New York City and moved to Durham, N.C. Jones, a tennis player during his undergraduate years at nearby Duke, tapped $200,000 from family and friends, took a business partner who was an old college buddy and an ex-Duke soccer player, and started a sporting goods store. They named their company Tennis Soccer International (TSI) and put out a catalog. Then soccer went boom on the playing fields of America.
Today his partner, Kelly Weadock, is gone--Jones bought him out three years ago. The tennis line is gone, too. It didn't sell. All that remains of TSI is soccer--soccer, five straight years of almost 100% revenue growth, and a mail-order catalog that reaches 7 million people globally.
TSI projects total sales of $26.5 million this year (it does not disclose profits), a still-impressive 40% jump in annual growth. More important, it's branching out aggressively into retail megastores faster than you can say "goooooo-al." In the past two years, TSI has opened 10 outlets in the Atlanta, Baltimore, Richmond, and Washington areas--making it the nation's first soccer-only chain.
HOW LONG? Jones, 31, figures TSI can sustain 40% growth for the next two to three years. His plans call for opening five new stores a year, starting around Philadelphia and then on to northern Florida. Jones's final destination: a return trip to New York in about three years--not as a dealmaker but as owner of a company pushing an IPO.
Any IPO, however, will depend on the answer to this question: How long can TSI ride the wave? Truth is, all that Jones is selling is soccer--balls, uniforms, T-shirts, warmup suits--to a suddenly fanatical following of suburban soccer moms and dads who will spare no expense for the proper accessories. "Everytime I go in there I spend $50, and I go in there all the time," says Judy Watanabe of Great Falls, Va., who has two soccer-playing sons, 11 and 9.
The truth also is this: Soccer is so wildly popular in the U.S. these days that it would have been almost impossible for a soccer-related business not to make money over the past few years. In a decade, high school soccer participation has increased by 81%, youth registration in soccer leagues has doubled, and the number of colleges fielding women's soccer teams has tripled. "Any size or weight person can play the game, and that's why it has become so popular," says Michael Morgan, a former pro soccer player who is now director of coaching at the Stone Mountain Youth Soccer Assn. near Atlanta.
Still, fat as the market is, there's room to stumble. TSI's chief competitor, a Hillsborough, N.C.-based catalog business called Eurosport, suffered the ultimate disaster for a mail-order company in 1994: A bug-ridden new computer sales system rendered the company unable to take orders or collect money for 2 1/2 months. Eurosport posted two years of losses, but even in the face of that debacle, it managed to survive. Now it projects a profit on an estimated $30 million in revenue for 1996.
Besides avoiding such hard luck, TSI has other advantages. By buying in bulk for mail order, it can afford to offer top-of-the-line products in its stores at catalog prices. And while most sporting-goods stores sell soccer equipment next to baseball mitts and lacrosse sticks, TSI hires and trains salespeople who just know soccer.
PRICE AND PASSION. Jones doesn't play soccer. Never has. His attraction to the sport remains strictly business. And he readily admits that he will change the business if another sport replaces soccer as the hottest game in America's towns.
That grates on rivals who have an evangelical devotion to the game. "Soccer is a part of our life. It wasn't a business decision," says avid player Mike Moylan, CEO of Sports Endeavors Inc., which owns rival Eurosport. "TSI is basically just product and price. We try to espouse the passion of the game."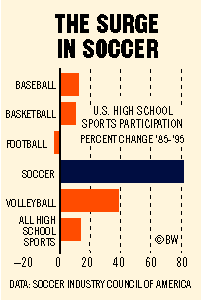 If TSI and Eurosport seem to be unusually bitter rivals, it might be because Jones got the idea for TSI from Moylan's company. Ex-partner Weadock even worked there briefly. Jones admired Eurosport's marketing and devoted following, but he didn't consider the company to have much business savvy. So he started small and got smaller at first. He closed his one Durham store to concentrate on building the mail-order business. And he cut the tennis line when it became apparent that soccer had far more potential. After getting his MBA at the University of North Carolina, he began opening retail stores two years ago, systematically targeting big-city suburbs and placing his high-tech-looking shops in fashionable malls.
"Somebody who's really a soccer fan can take a company to a certain point, but you can't go beyond it if you don't have good business principles," says Jones. One of the T-shirts in TSI's 80-page catalog reads: "Life is simple. Eat. Sleep. Play Soccer." Jones might want to add: "And sell smart."
Before it's here, it's on the Bloomberg Terminal.
LEARN MORE