On A Clear Day, You Can See Cole
Eyewear maker Cole National (CNJ) made a big hit with investors when it agreed in September to acquire retailer Pearle from Britain's Grand Metropolitan. Its stock shot from 19 to 25 within days of the announcement. As a result, some investors took their profits and bailed out. But some money pros have chosen to stick it out, convinced that the stock is headed much higher.
Jerry Ballan and Mike Connor, who manage C-B Partners, a New York hedge fund, think the game is far from over. They're buying more shares.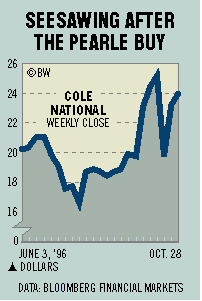 The acquisition, they note, makes Cole the nation's second-largest optical retail company. They think management will aim to make Cole a pure play in the optical business and will eventually sell its other business, Cole Gift, consisting of stores known as Things Remembered and Cole Gift Centers. The gift business accounted for about 47% of the company's total sales last year.
Ballan projects the Cole-Pearle combination, with 1,800 outlets in the U.S., Canada, and the Caribbean, will add to its Sears and Montgomery Ward locations. He sees sales of $1 billion in 1997. The combo earned $84 million (before interest, taxes, depreciation and amortization) on sales of $873.7 million this year. Ballan and Connor figure Cole will make $1.65 a share in the year ending Jan. 30, 1997, and $2.10 in 1998, up from last year's $1.32.
Before it's here, it's on the Bloomberg Terminal.
LEARN MORE