Ksu's Closely Watched Trains
The battle for Conrail that's raging between CSX and Norfolk Southern has refocused attention on one of the few companies still untouched by the great rail coupling-up: Kansas City Southern Industries (KSU), which owns Kansas City Southern Railway.
KSU's stock has climbed from 43 a share to 48 since CSX made a $9 billion offer for Conrail. But analysts say the KSU price is still way below the company's breakup value of $60 to $70 a share. In a buyout, one industry analyst puts the value of KSU at $70 to $80 a share.
"KSU has a number of valuable assets: Its railroad unit alone would be of incredible value to a larger, better-run rail entity," says Seth Glickenhaus, who heads Glickenhaus & Co., a New York investment firm managing more than $4.5 billion, which has a large stake in KSU. "It's a company that should have been bought out long ago."
When this column picked Conrail as one of the 1996 takeover targets, the betting was that Norfolk Southern would make the first move. But CSX jumped the gun on Oct. 10 with an $8.4 billion bid. Norfolk countered with a hostile $9 billion offer and sued CSX and Conrail to stop their proposed merger.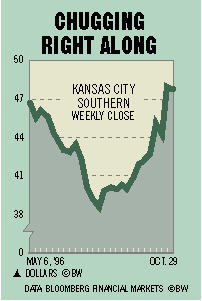 Some expect the loser in this fight to chase KSU. Glickenhaus figures the rail unit is worth $25 a share. One New York analyst thinks it's worth more in a takeover: "Based on Norfolk's bid for Conrail, KSU's rail operations would be worth $40 to $45," he says.
KSU has a financial-services unit that owns the highly profitable Janus and Berger families of mutual funds, which have combined assets of $48 billion. The analyst says the financial-service unit is worth $15 to $20 a share. Another important asset: KSU's 40% equity stake in DST Systems, which provides information processing and software services to mutual-fund companies. The analyst values the DST stake at $15. KSU's total value: $70 to $80.
Before it's here, it's on the Bloomberg Terminal.
LEARN MORE