Turning Pc Shoppers Into Mavens
The way I see it, there are two ways to get a keen sense of how fast time passes: Have children or buy a computer. Every parent understands the first one. But perhaps I should explain the second.
It has been a year since our first buying guide to computers. If you spent about $2,200 then, you could have gotten a pretty good machine, with a peppy 90-Mhz Pentium chip, an ample 730-megabyte hard drive, and a quad-speed drive for your CD-ROMs. But look at this year's guide: The same money buys you a computer with a 166-Mhz chip, more than three times the storage space, a CD-ROM that is twice as fast, and bookshelf-quality sound.
The machine is just the beginning. Content on the World Wide Web has exploded, and many sites now feature sound and video. Web-surfing devices are becoming available for your television set, and the new home computers offer radio and TV reception. This time next year, it may be impossible for you to tell from looking over their shoulders whether your children are watching TV or browsing the Internet.
If you find the pace of change in computers and information technology more than a little disorienting, you're not alone. One of the hardest things about buying a computer is deciding when to buy. Get it now, and enjoy the rich world that computers have opened up. Or wait just a bit longer, pay a lot less, and get more gee-whiz features.
With this in mind, we are providing you with a two-track approach to checking out the latest in computers, laptops, printers, and other gear. You can read the Special Report starting on page 115 to get a comprehensive overview of what's out there and what it can do for you. Then you can fire up your browser for a tour of our new Web site, Maven, at www.maven.business week.com. There, you can check out the models that interest you in even greater depth and come back regularly for updates on new products.
Our approach reflects what I regard as the new model in publishing: the use of whatever medium is appropriate to deliver all the information that people want--when and where they want it. We have already been pursuing this approach for quite some time with BUSINESS WEEK Online on America Online, and we recently hosted a well-attended online conference of nearly 400 people for our new survey of the top business schools (BW--Oct. 21). We have made plans to provide more interaction between print and electronic media.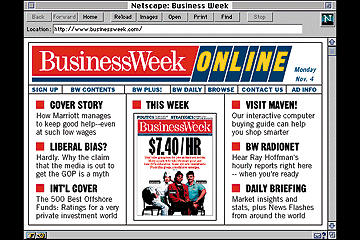 Our newest computer guides reflect the talents of a sizable crew drawn from the magazine, from our online staff, and from NSTL, another unit of The McGraw-Hill Companies. Senior Editors Geoff Lewis of our Information Processing section and Jim Ellis of the Personal Business section supervised the print version, while online Senior Editor Bob Arnold organized the electronic version. At NSTL, Managing Editor Andy Froning coordinated the testing and rating process for the 100 or so products on the first version of the Web site.
Count on the Web site to be updated regularly, as new products come out and old ones are retired. And watch the prices for regular updates, too. Happy reading and browsing. I hope your computer shopping just got easier.
Before it's here, it's on the Bloomberg Terminal.
LEARN MORE