Well, Hello Dollar!
Suddenly, the whole world loves the greenback
A few years ago, the U.S. dollar was the unloved orphan of the currency markets: Despite America's booming economy and shrinking budget deficit, traders grew certain that President Bill Clinton wanted a cheaper dollar to cut the yawning U.S. trade deficit. So convinced, they drove the greenback from 125 Japanese yen when Clinton took office to below 80 in April, 1995.
These days, every trading house in the world wants to give the dollar a home. During the past 18 months, the U.S. currency has soared 40% against the yen, topping 112, and 12% against the German mark, which hit 1.54 to the dollar. Some experts believe the greenback may enjoy a revival that could take it up to 130 yen and 1.65 marks by 1998. "I don't think anyone wants to short the dollar these days," says Ralph Peters, a strategist for Aeltus Investment Management Inc.
So far, this sharp currency updraft hasn't chilled the U.S. economy. By reducing the cost of imports, a resurgent dollar has helped keep a lid on inflation and interest rates. But the stronger dollar could soon hurt profits of U.S. companies with sprawling overseas operations. Analysts believe, for instance, that the dollar's surge was behind Coca-Cola Co.'s 5% drop in third-quarter sales. Procter & Gamble Co. says weak currencies in Germany and Japan probably dampened its sales in the quarter ended Sept. 30.
That could presage a weaker fourth quarter for U.S. multinationals. If the dollar keeps rising, "it's going to make it tough for American manufacturers," warns Ford Motor Co. Chief Executive Alexander J. Trotman. At the same time, a weakening yen is providing a windfall to Japanese auto makers. Christopher Redl, an analyst with ING Barings Ltd., figures that every one-yen rise in the exchange rate translates into $90 million in operating income for Ford's Japanese competitors.
What's fueling the dollar's surge? Foremost is renewed appreciation for the U.S. economy, which remains stronger than Japan's and Germany's. Indeed, Japanese officials are goading their troubled financial institutions to invest in U.S. securities.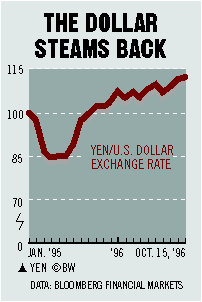 Psychology is also bolstering the greenback. Problems in Iraq and Russia have once again made the U.S. dollar a safe haven, as is the growing prospect of a European monetary union by 2000. Traders fear a unified central bank will lack the inflation-fighting resolve of Germany's Bundesbank. Administration officials also say that calls for a stronger dollar by Treasury Secretary Robert E. Rubin--a former currency trader himself--carry more weight than those of his predecessor, Lloyd M. Bentsen. "Rubin gets the benefit of the doubt because of his bank of goodwill with Wall Street," says one Clintonite.
Of course, the greenback's momentum could be slowed by the U.S. trade deficit, which totaled $64 billion through July. But no one is worrying about that now. The buck, down and out in 1995, is this year's hottest U.S. export.
Before it's here, it's on the Bloomberg Terminal.
LEARN MORE