China's Hard `Soft Landing'
Its state industries are sputtering
The pain in China's rust belt is acute. In Harbin, a northeastern city of 5.5 million with a heavy concentration of state-owned companies, a tearful factory manager says money is so tight that all he can offer his workers as holiday gifts are $12 "dumpling loans"--money for pork wontons that has to be repaid. Many employees of cash-strapped state enterprises in Harbin now work part-time. Others stay home and get only a fraction of their wages. Official figures put the national jobless rate at about 3%. But in many northeastern cities, it's estimated to be as high as 20%.
For Chinese leaders who have been trying to engineer the "soft landing" of an overheated economy, troubling evidence is building that economic growth is slowing far more than they had planned. Some experts believe that growth in the second half will fall to 7% (chart). For the first eight months of 1996, exports were down 4.2%. Inventories of unsold goods are rising. Although the government is still putting a happy face on its efforts to cool the economy, others are starting to wonder if it has gone too far. "The Chinese economy," says one Western diplomat in Hong Kong, "isn't really performing as well as official statements indicate."
A significant slowdown could have disastrous effects on China's attempts to allow gradual reform of its money-losing state enterprises. Ever since the launch of an austerity program in 1994, Beijing has had the luxury of a thriving nonstate sector that has created jobs and absorbed many workers who have left the state enterprises. But with growth slowing, the job-creating engine may be running out of gas. A credit crunch is pushing state enterprises to the brink--and displaced workers may no longer have a place to go.
The distress is being felt throughout the country. The credit squeeze is forcing delay or cancellation of many infrastructure projects. Industries such as steel, mining, and construction are bearing the brunt of the slowdown. Typical are companies such as Suzhou Air Conditioning in Jiangsu Province. With losses mounting and creditors demanding payment, the company is close to bankruptcy. As similar corporate failures have sprouted across China in the first half of this year, more than 2 million industrial jobs have disappeared.
GRADUALISM. Chinese President Jiang Zemin and others in the leadership have never shown the stomach to launch wholesale reforms of large state enterprises, fearing political backlash. Instead, since the austerity program started, they've adopted a gradual approach. Over time, the hope was that state enterprises would reform or become increasingly irrelevant. It has worked to some extent. State enterprises once dominated the economy but today account for less than 40% of total output.
To shrink that number further, the government-controlled banks have cut back on cheap loans to companies. "The banks are forcing changes on state-owned enterprises," says Rajiv Lall, vice-president for Asian economics at Morgan Stanley Asia Ltd. in Hong Kong. Some companies are indeed trying to rationalize their workforce through layoffs.
Many of the companies have no choice. That's because banks for the first time are actually trying to protect themselves against the huge risks in lending to the state companies. China's big banks still dole out 70% of all loans to state enterprises. Outstanding loans totaled more than $600 billion in 1995--with 40% of them nonperforming, according to Raymond Blanchard, author of a soon-to-be-released U.S. Embassy banking report.
To better their returns, some Chinese banks now charge state enterprises market rates for loans rather than the lower ones set by the central bank. The official rate for one-year loans is 10%, but in some cases banks are charging as much as 10% above the official rate.
That's just one way that Chinese banks are starting to make decisions based on risk rather than politics. Zhang Weiying, an economics professor at Beijing University's China Center for Economic Research, says some banks are setting short terms for repayment that cannot be met. Then, when payments are late, enterprises are hit with penalties that hike the cost of borrowing. Other banks set the loan amount on paper above the actual lump sum lent.
"VERY RISKY." But as the layoffs continue and the state enterprises become more wobbly, the pressure is increasing on the Communist Party leadership to backpedal. In Shanghai, the Xinghuo Paper Factory has won a reprieve. Laden with $100 million in debt, the company was targeted by the Construction Bank of China, which wanted to reorganize and sell it in order to recover over $40 million in loans. But Chinese sources say the plan was canceled as Vice-Premier Zhu Rongji intervened to save the company. "This is a very risky area where it's better to do nothing than to make a mistake," says Fan Gang, director of the China Reform Foundation, a think tank in Beijing.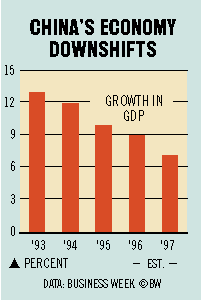 The government is easing the austerity program--but even that may be of little help to the beleaguered state enterprises. The People's Bank has cut interest rates twice this year, from 12% to 10%. And in the past few months, the government has tried to stimulate investment by allowing loans for capital investments such as infrastructure to increase. The goal is to prevent growth from falling below 8% a year. Still, attempts to stimulate investment "should not be interpreted as opening the tap," says Diane M. Yowell, director of Hongkong Bank China Services Ltd. The government is likely to redirect resources to large projects rather than to unprofitable enterprises, she says.
A soaring jobless rate, with the accompanying potential for social unrest and even political demonstrations, is not something Jiang Zemin wants before next year's pivotal Party Congress. But sticking to the austerity program, even if it is painful, offers China its best hope of remaking its industrial dinosaurs.
Before it's here, it's on the Bloomberg Terminal.
LEARN MORE