Germany: Will The Buba Trim Rates? Not Likely
With the German economy showing more potency, the door is slowly closing on further cuts in interest rates.
Real gross domestic product grew at a solid quarterly rate of 1.5% in the second quarter, after unusually harsh weather helped to drag down first-quarter GDP. And the latest data show that manufacturing likely pumped up third-quarter growth. Industrial output rose 0.8% in August, the sixth gain in a row.
In addition, business optimism is improving. The IFO economic institute's business climate index increased from 94 in July, to 94.4 in August, a nine-month high. The expectations component has been rising steadily. And after a shaky winter, exports are coming back, helped by the weaker mark. The industrial bounceback has prompted private economists to revise upward their GDP forecast, with growth expected at 1.1% in 1996 and 2.1% in 1997.
Consumer spending appears soft, but clear evidence will have to wait until the government finishes revamping its retail sales data. Still, high unemployment, last year's tax increases, and growing job insecurity are hardly supports for solid spending. The jobless rate for all Germany remained at 10.3% in August.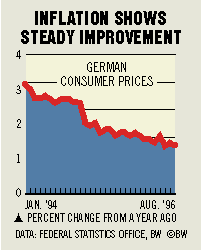 The improving economy has whittled down hopes that the Bundesbank will trim short-term rates. Cuts look especially unlikely since the key M3 money supply in August grew at an annual rate of 8.7% from the fourth quarter, far above the Buba's target. On Sept. 25, Buba Vice-President Johann W. Gaddum said: "We consider the current interest-rate level to be appropriate in view of the current economic situation."
But a rate cut cannot be entirely ruled out. Consumer prices in Germany rose just 1.4% in the year ended in August (chart). And export-dependent manufacturers will benefit if lower rates help to weaken the mark further. Other European central banks, meanwhile, are moving ahead. The Swiss National Bank surprised the financial markets on Sept. 26 by slashing its discount rate from 1.5%, to an 18-year low of 1%.
Before it's here, it's on the Bloomberg Terminal.
LEARN MORE