Does Ultralife Really Have Juice?
A little company in the upstate New York town of Newark, Ultralife Batteries (ULBI), has carved out for itself an impressive niche in a prosaic business. Ultralife makes 9-volt lithium batteries, and its roster of clients is as notable as its recent share-price performance is not. Ultralife's stock has tumbled 49% so far this year--which means either that Ultralife is in trouble or that Wall Street is dead wrong. One veteran value-hunter, Morton Cohen of Cleveland's Clarion Capital, thinks Ultralife is on its way out of the doldrums.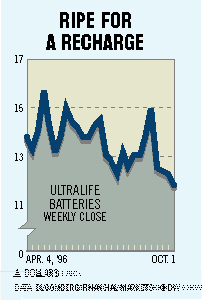 Ultralife has been pummeled by disappointing earnings news, such as word on Sept. 13 that its loss in the fourth fiscal quarter, ended June 30, would come in at 51 cents a share vs. a 7 cents loss last year. And there's no question that batteries are a tough business. Still, Ultralife has snared orders from medical-device manufacturers i-STAT and Siemens Medical Systems, as well as First Alert and American Sensors Electronics. Its batteries are sold at Radio Shack, Target Stores, and True Value Hardware. Even more potentially lucrative is the "retrofit" market: installing lithium batteries in place of existing batteries in cellular phones and other consumer electronics.
That is the key challenge facing Ultralife--and Cohen feels that the company is well suited to move into that end of the battery biz. If so, he says, the company's shares could easily turn around, surging from their present 12 to 50 in the next couple of years.
Before it's here, it's on the Bloomberg Terminal.
LEARN MORE