Aol Downloads A New Growth Plan
It focuses on ads and fees as gains in subscribers slow
In the past, when America Online Inc. wanted to pump up growth, CEO Stephen M. Case had a simple solution: jazz up AOL's content and crank up the marketing by sending out hundreds of thousands of free sign-up diskettes. Financing was easy: AOL could turn to Wall Street, where the stock enjoyed a steady climb to a high of $70 in May, to raise the cash.
In the face of a pronounced slowdown, Case is trotting out his tried-and-true formula, a promotional blitz. But this time, the payoff is far from certain. For one thing, the rejuvenation drive will be hugely expensive. In this quarter alone, Case says he'll spend over $100 million in advertising and marketing to attract new members.
PRICE WAR. Worse, the money doesn't go as far as it used to. The cost of acquiring subscribers in the U.S. ballooned to $270 each in the quarter ended in June. That compares to $130 in the previous quarter. The costs reflect the increasing difficulty AOL faces in retaining new members. While AOL signed up about 1.8 million new U.S. members in the June quarter, 1.5 million dropped the service, for a net gain of just 300,000--a more than 50% slowdown from the previous quarter. Part of that can be explained by a cutback in marketing last spring, but Wall Street has been growing nervous about AOL's long-term prospects. On Oct. 1, AOL shares slid 3 1/2 points, to 32, after it disclosed in a Securities & Exchange Commission filing that intensifying competition could hurt revenue and profits. AOL won't say yet whether things picked up in the September quarter.
So Case is scrambling to remake AOL. To date, most of its revenue has come from the monthly and hourly fees it charges members--$9.95 for the first five hours and $2.95 for each hour after that. Now, Case finds himself in a fierce price war with the likes of AT&T and Netcom, which offer unlimited access to the Net for a flat fee of $19.95 a month. That forced AOL to cut prices for heavy users by roughly two-thirds, to $19.95 for the first 20 hours.
Case's plan is to ramp up revenue streams such as advertising and fees from goods sold on AOL. Those items accounted for just 9% of revenues in AOL's last fiscal year. But with their high margins, Case expects ad sales and transaction fees to generate virtually all of the company's profits in just a few years. Michael Mufson, portfolio manager of the Putnam OTC Emerging Growth Fund, figures AOL will rack up $250 million in revenues from these other sources for the current year, out of a projected $2 billion in total sales. However, AOL will have plenty of rivals for those advertiser and retail dollars, including a splashy relaunch of the Microsoft Network on Oct. 10. "It's very uncertain how these revenues will shape up," warns Jonathan H. Cohen, an analyst with Smith Barney Inc.
If those new sources of revenue don't materialize, AOL does not have many other tricks. With the stock now trading in the low thirties, the company will have a hard time tapping the market in the near term, despite a recent move to the New York Stock Exchange, celebrated with NYSE Chairman Richard A. Grasso and AOL Chairman Emeritus James V. Kimsey. Case does not expect AOL will have to go back to the capital markets any time soon. Still, for the year ended in June, AOL's operations generated a negative cash flow, reducing the $218 million raised last year from the markets to just $118 million in cash.
MEDIA BLITZ. What's more, those lucrative new revenue streams are needed to help offset the $314 million in deferred direct marketing costs on AOL's balance sheet. Because AOL spreads out those costs, it must take a charge against earnings each quarter to work off the deferred asset. If it hadn't extended from 12 months to 18 the period over which it amortizes those costs, the $29.8 million in net income it reported last year would have been a loss. "If they don't deliver on new revenues or stronger growth and they are spending at this rate, they're in trouble," warns David M. Simons, managing director at Digital Video Investments, an investment research firm.
The best way to attract advertisers and retailers is to deliver a massive audience. That's why on Sept. 30, Case kicked off AOL's biggest media blitz ever. The campaign includes prime-time TV ads designed to promote the brand, a video touting AOL's strengths to be sent to every subscriber, and of course, a blizzard of free sign-up disks. AOL also plans an infomercial and a syndicated cable-TV show. The goal: to hit 10 million members by next summer.
To do that, Case will first have to reduce AOL's "churn," or the rate at which subscribers drop the service. Even though many customers stick around for as many as three years, roughly 25% of the membership leaves each quarter. "We had dropped the ball in terms of making new members feel welcome and comfortable," concedes Case.
AOL is trying to get new members hooked--and keep them from bolting. Company execs are devising ways to walk recruits through their first AOL session. A new "Loyalty Lab" was created to study how consumers use the service and understand what works and what doesn't. AOL has also started giving customer-service agents a bonus for each customer they talk out of canceling. Before, when a subscriber canceled, no questions were asked. AOL hopes such hand-holding will help prevent new users from giving up in frustration and make AOL more attractive than the chaotic Internet. Case says such efforts are already paying off.
But it will hardly eliminate the threat from the Net. Cutthroat price competition will only intensify. And the Net is becoming a much friendlier place. Companies such as Time Warner Inc. and Individual Inc. are offering personalized views of their content on the Net, based on a Web surfer's interests. Startups such as Pointcast are even sending custom content directly to subscribers' PCs. And Microsoft Corp.'s born-again MSN will focus on interactivity and organizing content into more than 20 key "channels." AOL's furious expansion, meanwhile, has led to clutter. "I would eliminate 80% of the content on AOL," says Tom Gardner, a founder of the popular AOL investment forum Motley Fool.
Case is responding by improving AOL. The latest version is faster and doesn't bog down with endless downloads of art. AOL is also working on a way to customize content--and eliminate clutter. Later this fall, AOL will begin offering Microsoft's Internet Explorer browser for members who want to surf the Net in style. "It's folly for them to think they can have lousy Internet access and rely on proprietary content," says Nick Donatiello, president of research firm Odyssey LP. In a recent survey, Odyssey found that consumers are going directly to the Internet, rather than using an online service.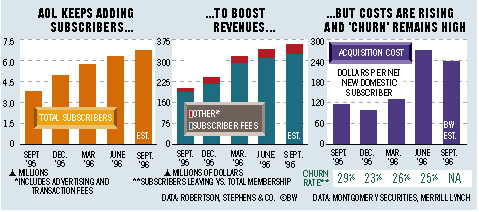 Even as Case embraces the Net, he must convince customers and advertisers that AOL offers something unique. Since August, AOL has signed $30 million in ad deals with companies such as General Motors, Sprint, and Starbucks. But more and more, AOL will be competing against Web sites for those ads. That's why this marketing blitz is so important. Will it work? Paul Debenedictis, president for new media at Hachette Filipacchi Magazines, expects AOL's marketing campaign to boost visits to Hachette's sites on AOL, such as Car & Driver and Elle, by 50% to 75%. "We're looking for a big lift," he says. Case can only hope so.
Before it's here, it's on the Bloomberg Terminal.
LEARN MORE