Charging Into Rechargeables
Cell phones and laptops have the battery makers duking it out
Gillette's $7.1 billion purchase of Duracell International Inc. has focused attention on the $4 billion market for alkaline batteries, where Duracell is the world's leading producer. The alkaline market is growing at 20% a year and "will continue to be the growth engine for [Duracell's] business," says Deutsche Morgan Grenfell analyst Peter Barry.
But the new frontier in batteries--and, perhaps, even at Gillette Co.'s new acquisition--is in rechargeable lithium-ion and nickel-metal-hydride cells. The market for these expensive rechargeables is expected to grow from $2 billion in 1995 to $5 billion in 2000. How so? Cellular phones and laptop computers, along with their cousins, personal communications systems (PCSs) and personal digital assistants (PDAs), all take batteries. And the number of cell phones and PCSs is expected to double, to 69.6 million, by 2000, according to Dan Merriman, a director of Giga Information Group. In addition, the number of laptops and PDAs could grow from 11.9 million to 32.9 million, he says.
SLIMMING DOWN. Making good rechargeables is a challenge. Batteries convert the energy produced by chemical reactions into electrical energy. Rechargeables, used since World War II, allow the process to be reversed. The right combination of chemicals and metals can create a lot of power. But designers have to worry about another constraint: It's tough to keep the weight of the batteries down.
Most cell phones and laptops are now powered by nickel-cadmium batteries. Their advantage is that they are inexpensive, but the chemicals inside them are toxic. Also, they are subject to dwindling energy capacity if they are not fully drained before being recharged. Nickel-metal-hydride batteries are more environmentally benign and more powerful, but they're heavy.
That's where lithium comes in. Because this element is much lighter in weight than nickel, lithium-ion batteries can deliver more power per pound. The drawback is that the technology is much more complicated and expensive.
Production of lithium-ion batteries began only about 18 months ago. So far, manufacturers are not making money on them. But manufacturers say they feel compelled to get into these markets. High-end batteries are becoming the latest must-have for high-end computer buyers. "If you don't have a lithium-ion battery, you may not be competitive," says Joseph A. Carcone, vice-president for marketing and sales at Sanyo Energy (USA) Corp.
Japanese computer manufacturers dominate the production of high-end rechargeables: Sony, Sanyo, Matsushita, and Toshiba control most of the market. Sanyo, which makes all three types of batteries, is the No.1 producer of nickel-metal-hydride batteries. Sony Corp. is the top lithium-ion maker. Toshiba shares its 28% of the market with Duracell. In 1992, the two companies signed an agreement to set up a joint venture for the manufacturing and marketing of nickel-metal-hydride batteries. In August, Duracell cranked up the first lithium-ion-battery factory in the U.S. The new plant, which is located in Waterbury, Conn., should reach full capacity in 1997.
JUDGMENT CALL. A month earlier, Duracell had gone into full production of nickel-metal-hydride cells in Mebane, N.C. Since 1994, in fact, it has invested $35 million in specialty battery research. "Our business derives from judging which kinds of devices are going to become successful," says Norm J. Allen, president for new products and technology at Duracell. And in the consumer-electronics arena, "the cellular stuff has jumped much higher than we expected." Ralston Purina Co.'s Energizer Power Systems division--the biggest American maker of nickelcadmium batteries--plans to open its first lithium-ion factory next year in Gainesville, Fla.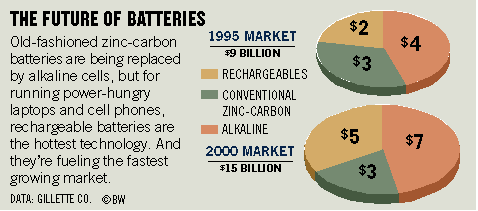 Margins inthe alkaline business are about 65% at retail and about half that for batteries sold directly to equipment makers. In the rechargeable business, margins may reach only about half the margins for alkalines--and then only after full production gets under way. "But that's on a much bigger-ticket item," Allen notes. A nickel-metal-hydride battery for a cell phone might cost $35 and a lithium-ion battery about $70. "With those kinds of margins, this is an attractive business," he says. By 2000, analysts say, the new breed of batteries could account for $500 million in sales and 10% of Duracell's business.
The technology is advancing so quickly, however, that it's hard to make predictions beyond that. Even though lithium-ion battery production worldwide won't be up to capacity until about 2000, new technologies are already being developed. By that time, even more exotic creations--such as lithium-metal and lithium-polymer batteries--may be all the rage.
Before it's here, it's on the Bloomberg Terminal.
LEARN MORE