As Guerrillas Tap A Gusher...Oil Companies Go On The Defensive
Oil engineer Alfonso Manrique Van Damme was discussing projects with three potential investors in his office in downtown Bogota last November. As the four talked, a pizza delivery man strolled in, popped open a pizza box filled with handguns, and with the help of the bogus investors bundled Manrique into his own car. Manrique, a director of state oil company Ecopetrol, has not been seen since then. Officials suspect left-wing guerrillas in the kidnapping.
Marxist revolutionaries across the country are cashing in on Colombia's oil boom by extorting oil companies and seizing workers for ransom. Although the multinationals deny paying off the rebels, independent researcher Jesus La Rotta calculates that in 1994, the guerrillas raked in $176 million from oil companies. He figures the 1996 number will be about 35% above that. "The oil sector has become the most important source of funds for the ELN [National Liberation Army]," says La Rotta, author of The Finances of Colombian Subversion. The ELN and the Revolutionary Armed Forces of Colombia (FARC) shake down the multinationals, state companies, and subcontractors and then use the funds to buy weapons and carry out subversive operations. Recent offers by the ELN to stop sabotaging the oil sector do not bring much hope for relief, since their demands amount to a quasi-nationalization of the industry.
HIGH RISKS. The bold kidnapping of Manrique in downtown Bogota was unusual. More often, the guerrillas go after construction workers, geologists, and engineers working in Colombia's remote jungles and mountains. In June, guerrillas shot at a helicopter carrying a crew from Western Geophysical, a U.S. company conducting geological studies for British Petroleum Co. in the Cusiana field. The Colombian co-pilot was killed. Two Colombian engineers on contract for Occidental Petroleum Inc. disappeared in the jungle last December only to turn up a few days later, their bullet-riddled bodies dangling from a bridge. And last November, guerrillas released two Italian engineers who had been held for seven months. The rebels had demanded $14 million for their release, but the Italians deny any money was paid.
"Colombia has more kidnappings than any other country in the world," says Dick McCormick, managing director of U.S. security firm Kroll Associates. "It's a business." The guerrillas calculate that a foreign engineer is worth about $7 million in ransom or $100,000 a month in protection fees, says La Rotta. With the risks so high, how do companies get anyone to work in the countryside? "That's a problem," admits McCormick. Amoco Colombia Petroleum Co. relies heavily on Colombian workers. Some places, remarks President Tom Melsen, are just too dangerous for foreigners.
Attacks and sabotage cost oil companies billions of dollars in spills, lost production, and security costs. Guerrillas have attacked the Cano Limon pipeline more than 400 times in the past 10 years, causing losses of more than $1.5 billion and spilling 1.4 million barrels, five times as much crude as the Exxon Valdez dumped off Alaska. Guerrillas are accused of instigating mass strikes in August by coca farmers in Colombia's remote oil-producing regions. In just seven days, protesters blew up the Putumayo pipeline 21 times, putting it out of service for two weeks and costing Ecopetrol $2 million. Last year, Ecopetrol alone lost $13 million to sabotage.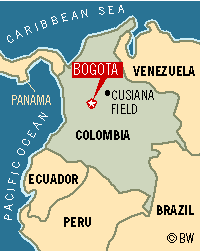 With financial help from private companies, the government sends military units into the countryside to try to protect oil installations. For example, BP and its partners in Cusiana signed a three-year contract with the Defense Ministry to spend $11.6 million over three years to provide communications equipment, food, and transportation to troops guarding its facilities. Companies also pay a "war tax" for military protection: $1.25 per barrel of oil produced. One oil executive estimates that the guerrilla presence adds 10% to the direct costs of each project. But as Melsen of Amoco points out: "We're in a business with a lot of risks. That's just one more risk to be incorporated."
Before it's here, it's on the Bloomberg Terminal.
LEARN MORE