Usair's European Squeeze Play
Why Steve Wolf is suing partner British Airways
No one ever said Stephen M. Wolf doesn't know how to come out swinging. But seven months after the aggressive CEO took over the controls at troubled USAir, the biggest surprise has been his first choice of punching bag. While investors have expected a run at USAir's high-cost labor, Wolf has cozied up to USAir's unions. Instead, his first blow has hit British Airways PLC, its partner and erstwhile savior. In an unexpected move on July 30, Wolf filed an antitrust suit aimed at stopping a recently announced alliance that would link BA, which owns 24.6% of USAir, with American Airlines.
Still, the move bears all the hallmarks of the 55-year-old Wolf's go-for-broke style. After turning around United Airlines, Republic Airlines, and now-defunct freight carrier Flying Tiger Line, Wolf has become the airline industry's Mr. Fixit. Although he declined BUSINESS WEEK's request for an interview, company sources say the suit is the first sign of Wolf's strategy to fix the ailing carrier. Another big clue: On Aug. 21, USAir filed for route authority to fly directly to London's Heathrow airport from the U.S.
BALANCE. Why? While reducing USAir's costs is a must, Wolf also believes USAir must grow internationally to survive. That's likely to mean a full merger or far deeper partnership with another carrier down the road--and insiders say Wolf has concluded that the somewhat lopsided deal with BA may hinder USAir. So, just as Wolf has gone after union contracts in the past, he figures he can tear up USAir's current partnership with BA in hopes of a better deal. "The partnership is not a great thing for USAir; whether it'll be able to survive as is, it's an open question," says a company source. "An alliance must have more balance."
It's risky--but the Arlington (Va.) airline is far less dependent on BA than it was just two years ago. After losses totaling $3.1 billion over six years, USAir posted net income of $119 million for 1995 on revenues of $7.5 billion. With passenger-load factors hitting record highs this summer, Morgan Stanley & Co. analyst Kevin Murphy expects 1996 profits of $280 million, before preferred dividends.
Won over by Wolf's track record--and the 1.3 million options he has riding on USAir's fortunes--shareholders are optimistic. The stock now trades at around 18, triple its early-1995 level. "Wolf has the incentives to get the job done," says Russell E. Thompson, manager of United Income Fund, which holds roughly 5 million shares. For the moment, Wolf also appears to be riding an industry-wide updraft. A strong economy and a temporary halt to the 10% federal tax on U.S. airfares have boosted all airlines. Wolf is also benefiting from $500 million in cuts by predecessor Seth E. Schofield.
Those gains can't hide the considerable hurdles Wolf still faces: USAir's outlays remain the highest in the industry--and they're going up (chart). For the first half, high fuel costs and a brutal winter helped drive USAir's unit operating costs up 14.3%, the industry's biggest jump.
Moreover, both Delta Air Lines Inc. and Southwest Airlines Co. are rapidly expanding into USAir's East Coast strongholds with cut-rate fares. Now flying out of Florida and Providence, "at some point, we'll probably be in a lot more of their cities," says Pete McGlade, Southwest's vice-president for schedule planning. Analysts expect a bloodbath if Wolf doesn't get costs down.
So far, Wolf has moved gingerly. Insiders and union officials credit Wolf's team--including two deputies who were with him at United, President Rakesh Gangwal and General Counsel Lawrence M. Nagin--for opening dialogue between USAir's unions and managers. The improved atmosphere led to a management-labor task force dedicated to ending costly delays. One early victory: In June, USAir's on-time-arrival record jumped to second place, up from fourth a year ago.
More gains are likely. In late July, the group offered suggestions on everything from speeding refueling to improving food preparation. Just as important, Gangwal is closely tracking progress. Insiders say that's a big shift from the past. "They've put accountability into the process," says William Dalton, a veteran USAir pilot.
Wolf's wooing of labor also appears to be improving morale. Company officials and union leaders say optimism is growing. The Wolf team "will be able to steer us in the right direction if anyone can," says William Freiberger, assistant general chairman at USAir International Association of Machinists & Aerospace Workers, long a harsh USAir critic. Still, no one has forgotten Wolf's penchant for playing hardball, and union leaders know they haven't touched the tough cost issues. "At some point, he may go back to his old adversarial ways, and then we'll react," says Freiberger.
Elsewhere, too, Wolf and Gangwal have cast a sharp eye on operations. They quickly reversed a failing plan to spend $50 million retrofitting planes to expand or shrink business-class sections according to demand. The program alienated business passengers, who like being bumped up to first class. And Wolf has upgraded the analysis used by USAir to determine which flight schedules produce the greatest revenues--one reason USAir's flights are now flying fuller.
But the biggest shift is Wolf's plan to move the carrier away from the short-haul, regional routes it flies--primarily in the Northeast. Company insiders say he's shifting aircraft to coast-to-coast and overseas routes. Such routes are more profitable than short hops and less vulnerable to cherry-picking. In the past year, USAir has added Madrid, Munich, and Rome. Still, foreign routes bring in just 6.1% of revenues, up from 3.8% in 1994.
Wolf believes USAir needs to bolster those routes with direct flights to London's coveted Heathrow Airport. That explains the lawsuit against BA: Under the three-year-old code-sharing agreement between the two airlines, USAir is kept out of London. No longer content to fill BA's London-bound flights with USAir passengers, Wolf really aims to capture some of BA's valuable London slots, insiders and airline rivals say. USAir execs complain that it receives few benefits from its deal with BA, while BA adds roughly $100 million in revenue picking up USAir's passengers. USAir "wants to fly to Heathrow," says one company source. "If that means USAir can't dance with BA, so be it." How might that happen? Wolf may be counting on forcing BA to yield some of its U.S.-London routes, though both U.S. and British authorities would have to approve.
OPEN-SKY IMPASSE. But USAir insiders say Wolf may want to sever the partnership with BA; in its suit, USAir asks the court to order BA to sell its holding. That's because the real stakes may lie in the "open skies" talks now under way between the U.S. and Britain. The U.S. won't allow BA's link with American to go through unless more Heathrow slots open to U.S. carriers. To have a chance of winning slots that become available, industry sources say, Wolf has to break from BA.
Of course, Wolf's power play involves huge risks, not the least of which is irritating USAir's biggest shareholder. Execs at the British carrier appear unfazed. "We don't want the relationship to be severed," says one top BA executive. "We have no intention of relinquishing our shareholdings." Nor does BA plan to remove its three directors from USAir's board. And with the open-sky talks, which reopen Aug. 28, currently at an impasse, Wolf's efforts may yield little.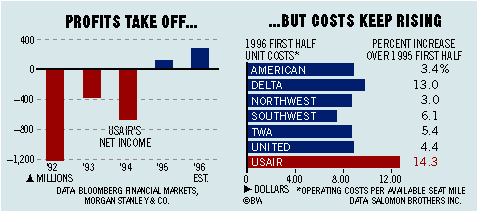 Industry observers also scoff at Wolf's global ambitions. Few are making money over the crowded Atlantic these days, and every U.S. airline wants into Heathrow. Slots elsewhere are few and far between, and given USAir's still-shaky finances, it can hardly muscle into competitive foreign markets. Many in the industry think Wolf's ultimate goal in breaking away from BA is to be able to sell or merge USAir, as he has done at his previous three airlines. Indeed, despite the failure of earlier merger talks, one United source says Wolf called CEO Gerald C. Greenwald regularly through spring to revive his interest in buying USAir.
USAir sources agree Wolf spoke to Greenwald early on. But they say both sides pushed the talks, and that they stopped months ago. Until he tackles costs, they concede he'll have no takers. With his suit against BA, Wolf has shifted course. But it isn't likely to be any smoother.
Before it's here, it's on the Bloomberg Terminal.
LEARN MORE