Du Pont's Diet May Not Be Over
DuPont (DD) has been shedding fat fast. It slashed costs by $3 billion in the past four years and raised labor productivity by 3% a year, according to analysts. But some investment pros are betting DuPont will do much more to please investors who think the stock, now at 82, merits a higher price. Paul Raman, an analyst at PaineWebber, insists that DuPont will sell some important assets.
"DuPont's repurchase of shares held by Seagram was the catalyst for the big future change," says Raman. In April, 1995, DuPont paid $8.8 billion to buy back 156 million shares from Seagram. And last July, DuPont bought back warrants for DuPont stock that Seagram also held, for $500 million.
Raman is betting that DuPont CEO Jack Krol "has a scheme in mind--one that could make the stock go as high as 95 to 100." Krol, he believes, will opt to sell Conoco--which DuPont acquired in 1981--for $12 billion to $14 billion, or $20 to $22 per share in DuPont stock. Conoco has $800 million in aftertax income and $2.1 billion in aftertax cash flow, notes Raman.
The analyst says that DuPont will use the cash to pay down debt, repurchase a huge number of shares, and bolster its key businesses overseas, including nylon, agrichemicals, titanium oxide, and specialty fibers.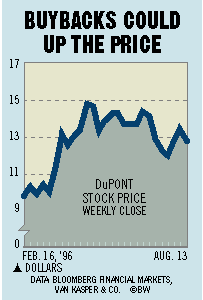 "I expect DuPont will also shed its imaging and coal businesses," says Raman. The imaging business (films and printing systems), he notes, generates sales of about $800 million a year. He believes the operations will be bought by Xerox or Fuji Photo Film of Japan for about $700 million.
DuPont's 50% stake in the coal business (co-owned with Consolidated Energy) produces operating income of $90 million and may end up with a German energy company for about $1 billion, says Raman. A DuPont spokeswoman says the company has a policy not to comment on speculation.
Before it's here, it's on the Bloomberg Terminal.
LEARN MORE