Gaining An Edge With Hedge Funds
Wanted: protection from a downturn in an aging bull market. For many well-heeled investors, hedge funds seem to be the answer. This year, hedge-fund assets have swelled above $100 billion--more than regaining the ground the industry lost in 1994, when assets dropped 20%, to $74 billion. "If and when the market turns negative, investors expect hedge funds will make money or not go down as much as the market as a whole," says E. Lee Hennessee, a director of WPG-Hennessee Hedge Advisory Group in New York.
That has been the case in the past. Take 1987, the year of the crash. While the Standard & Poor's 500-stock index posted a 5.24% gain, and growth mutual funds squeaked out only 1.02%, hedge funds returned 14.49%. Again, in 1990, when the S&P and equity growth mutual funds registered negative returns of 3.11% and 3.82%, respectively, hedge funds finished the year up 10.97%. Hedge funds don't have to stay fully invested in the market like most equity mutual funds, and they have the flexibility to hedge with put options and short speculative securities.
LONG AND SHORT. But while hedge funds do well during sluggish times, they underperform during strong bull markets because of their hedged bets, or shorts, on declining stock prices. Indeed, in 1995, the S&P returns soared past those of hedge funds, 37% vs. 15%. Still, from 1990 to 1995, hedge funds had a compounded annual return of 21.9%, vs. 16.6% for the S&P, according to WPG-Hennessee.
By definition, hedge funds are private investment limited partnerships that restrict the number of investors to 99 or fewer to avoid Securities & Exchange Commission regulations. Initially, the funds simply bet long and short on equities to reduce market risk. But now there are a dozen hedge-fund strategies, some of which may not even use hedging. For instance, George Soros' Quantum fund and Julian Robertson's Tiger fund--called macro funds because they try to profit from macroeconomic shifts worldwide--make bets on global currency, bond, equity, and commodity markets but don't necessarily hedge their positions. Event-driven strategies--such as risk arbitrage, which focuses on mergers, and distressed securities, which involves purchasing debt and equity of reorganized or bankrupt companies--also may not hedge.
Other approaches that use hedging regularly include the market-neutral funds, which go equally long and short, and levered bond funds. Derivatives, options, and futures are often used. "Hedge funds are as different from each other as the managers are," says Peter DeCicco, a hedge-fund consultant in Fairfield, Iowa. Some are more exotic, such as the macro funds, while others, like Phoenix LP, use a classic long/short strategy. "You're taking on manager risk in a hedge fund rather than the market risk in a mutual fund," says DeCicco. Investors are buying the manager's philosophy, not the stock market.
The majority of these funds only accept accredited investors, whose net worth exceeds $1 million or whose annual income tops $200,000 for an individual or $300,000 for a couple. Fund liquidity is limited, and investors get scant disclosure about investments. Also, managers often have a large portion of their own net worth invested with the fund. In return for the expected above-average returns, managers earn a generous 20% of the profits plus a 1% management fee.
For investors who can't afford the required $500,000 or $1 million minimums, a fund of funds may be an option. It's a hedge fund that invests in a portfolio of hedge funds, allowing investors to come in for $100,000 or less. Investors get access to managers who would otherwise be off-limits, but they must still pay a 20% performance fee and 1% management fee on top of the fees of the underlying funds. Alpha Latin America posted a 102.7% return for the three years ending May 30, while Ultima Investment turned in 58.6% and Halcyon Multiple Strategies 55.1%, according to the MAR/Hedge newsletter. But these three are stellar performers. Overall returns for the fund of funds group have trailed those of regular hedge funds and the S&P, according to Hedge Fund Research, a Chicago-based consultant. Industry consultants say returns should improve with more careful choice of funds that complement one another's strategies.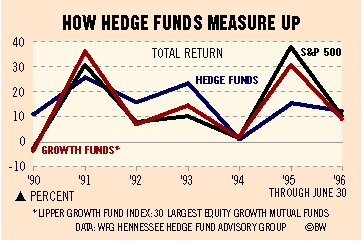 Still interested in investing in a hedge fund or fund of funds? Unfortunately, it's somewhat of a clandestine world. Because the SEC prohibits hedge funds from advertising, "there is no one-stop shopping like there is for mutual funds," says Antoine Bernheim, publisher of U.S. Offshore Funds Directory (212 371-5935). That leaves the investor with two options: hire a consultant to find a fund, or network through friends.
Before you entrust your money to any manager, make sure you know his or her track record. Consider the fund's strategy, how it controls risk, and how much leverage is used. Hedge funds require both resources and resourcefulness to be considered a viable investment option.
Before it's here, it's on the Bloomberg Terminal.
LEARN MORE