Is It Rainforest Crunch Time At Ben & Jerry's?
To grow, Ben & Jerry's may have to trim its social agenda
Japan is beckoning to Ben & Jerry's Homemade Inc. While health-conscious Americans are swearing off superpremium ice cream, taking a bite out of Ben & Jerry's bottom line, the Japanese can't get enough: Last year, Haagen-Dazs raked in $300 million there. So when a top Japanese supplier called Ben & Jerry's President and CEO Robert Holland Jr. to offer distribution, Holland might have jumped at the tasty deal. But after much board debate, he said no. Why? The Japanese company had no reputation for backing social causes. "The only clear reason to take the opportunity," says Holland, "was to make money."
For most CEOs, that wouldn't have posed much of a dilemma. But the quirky Vermont ice-cream maker continues to operate by its own rules, even under Holland, a turnaround specialist and onetime McKinsey & Co. consultant who arrived 18 months ago to stop its earnings meltdown. By tightening operations, Holland has restored Ben & Jerry's finances. Now, as he expands into new products and foreign markets, Holland increasingly has to balance profits and social responsibility.
"BUDGET-SMUDGET." It's no abstract exercise. Insiders say a struggle over the company's direction is under way. On one side sits Ben R. Cohen, the charismatic co-founder and chairman. Together with co-founder Jerry Greenfield, Cohen owns 42% of Ben & Jerry's voting stock--and he favors slower growth that won't harm relations with employees or the tiny Vermont communities where it operates.
Pushing for swifter growth are some members of the board, Holland, and a new team of professional managers from such mainstream companies as American Express Co. and The Limited Inc. Part of the pressure comes from shareholders--including Holland and other top executives, who now receive much compensation in options. But with the U.S. superpremium ice-cream market shrinking, Holland argues that Ben & Jerry's must expand its brand more aggressively or risk being frozen out of supermarkets. "It's not a fight over whether to grow but how fast," says one director. "Some of us think growth is necessary for survival."
So far, insiders say the rift has not broken into a power struggle. Relations between Cohen, who remains closely involved in marketing and strategic decisions, and Holland are cordial, if not close. "I know the company does not always do what I would like," says Cohen. "But in general, it's moving in a direction I'm aligned with." Board members and others say the debates are calm, not fractious. "Ben's not the kind of guy who says, `If I can't get my way, I'm taking my toys and going home,"' adds Holland.
Certainly, Holland has made lots of progress. In 1994, the ice-cream machine that had churned out a decade of double-digit earnings growth appeared broken. Struggling with cost overruns at a new plant, Cohen conceded the company had outgrown his management skills. As sales stagnated at about $150 million in 1994, Ben & Jerry's lost nearly $2 million. The once hot stock fell from a high of 33 to 10.
With characteristic marketing flair, Cohen and Greenfield launched a gimmicky search for a CEO with a nationwide essay contest. Great publicity aside, a corporate headhunter found Holland. He began by instituting tighter controls. For the first time, formal growth plans are being drawn up and budgets matter. "In the past, the feeling was `budget-smudget,"' says sales manager Halsey Kendrick. "Now, people have numbers they're accountable for."
Product development was equally haphazard: It often depended on what Cohen wanted to cook up. Now Holland has expanded the research and development lab. And to end the manufacturing kinks, he hired an operations manager with years of experience in food service.
The changes have paid off. In June, Ben & Jerry's broke its record for weekly sales by 20%, thanks to the first fruits of Holland's labors: a new line of no-fat sorbets launched in March. Last year, as sales hit $155 million, earnings recovered to $5.9 million. Shares now trade at 17. "We think it's an undervalued franchise," says one big shareholder.
Still, no one would call the ice-cream maker straight-laced. At 10 o'clock one recent morning, Ben and Jerry--who now heads philanthropic efforts--roared into the parking lot on their new Harley-Davidson motorcycles. T-shirts and shorts remain standard attire, and Ben & Jerry's still gives three free pints a day to each of its 700 employees.
And Cohen's vision of "values-led" capitalism--in which returning something to customers, employees, and the community are as important as the bottom line--also maintains its sway. Ben & Jerry's pledges 7.5% of its pretax profits to social causes, from antinuclear campaigns to gay rights. It also uses purchasing power to back its values: It buys milk and cream from Vermont family farms, though that costs more, and buys organic fruits and nuts where possible.
Employees leave no doubt that the company today is more buttoned-down. Holland, they say, is a more distant, traditional CEO. "It's less family-like," says Kendrick. Holland, adds one director, "brought adults to the company."
That has made for a sometimes rocky road. In employee surveys last year, staffers "questioned Ben & Jerry's commitment to its founding values as it grows." Many resent the board's decision to drop the salary cap that held executives to no more than seven times the lowest worker's pay. Holland's 1995 salary and bonus of $326,000 is 14.5 times what an ice-cream scooper makes.
Yet the biggest stress may lie ahead. The new line of sorbets illustrates the trade-offs Ben & Jerry's confronts. The fruity line of six flavors has been a huge hit: In three months, Ben & Jerry's has grabbed a 25% share of the fast-growing, $60 million premium sorbet category. The high-margined product is key to Ben & Jerry's improved bottom line and is driving sales growth.
Yet the company came to market a year behind Haagen-Dazs, delayed in part because sorbet held no clear link to its social mission. Profits--and a good opportunity to extend the brand--weren't enough. "Sorbets weren't high on Ben's agenda," says Director Henry Morgan. The obvious solution: use organic fruit. But so far, it hasn't found suppliers for big quantities. Since organic produce costs more than nonorganic, sorbet's juicy margins would also suffer.
"BEACHED WHALE." And though Holland trumpets foreign markets as key to offsetting sluggish U.S. demand, progress has been slow. In part, that's because Ben & Jerry's lacked management depth. But its desire to expand only while exporting "caring capitalism" also hurt.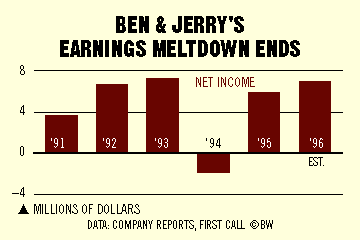 When the company prepared to launch in France last winter, for example, Cohen wanted to stay out of the market unless ads took a stand against the French government's policy of nuclear testing in the South Pacific. Holland resisted. "What are we gaining by not being there?" Holland asks. "If the decision is to punish French consumers because of their government's foreign policy, that didn't make sense."
In the end, Holland prevailed. But a compromise was struck to make the marketing campaign less splashy. Holland now regards the French launch as half-hearted. It's "either a beached whale or a pregnant cow," he says. "The market will be relatively small." Nor does Cohen appear satisfied. "I still believe it would have been the right thing to do," he says. "It also would have been, coincidentally, good marketing." As Ben & Jerry's continues to struggle with its growing pains, that's a debate the two are likely to continue.
Before it's here, it's on the Bloomberg Terminal.
LEARN MORE