Is Cavalier Japanese For Edsel?
A "model" of U.S.-Japan cooperation is going nowhere
It was one high-profile deal when it was announced. In 1993, during tense times in U.S.-Japan trade relations, General Motors Corp. and Toyota Motor Corp. inked a pioneering pact under which Toyota would sell the GM-made Chevrolet Cavalier in its home market bearing a Toyota nameplate. Nurtured by then President Tatsuro Toyoda, who had a long-standing friendship with GM CEO John F. Smith Jr., the deal was timed to coincide with the Seattle summit between President Bill Clinton and then Prime Minister Morihiro Hosokawa, where it was lauded as a model of Japan-U.S. cooperation. The Export-Import Bank of Japan even lent GM $42 million to switch the Cavalier's steering to Japanese-style right-hand drive.
Impressive stuff--except that the whole escapade now threatens to become an embarrassment for both companies. The Cavalier finally hit Japanese showrooms in late January. Sales of the car rose at first, nearly reaching the partners' monthly goal of 1,667 in March, but then plummeted to just 472 in May (chart).
What went wrong? Reality quickly set in when GM and Toyota got into the minutiae of rejiggering the Cavalier for the Japanese market, which was done at GM'S Lordstown (Ohio) plant. The car had to go through nearly 150 Toyota-designated changes to meet Japanese standards. On top of the steering wheel change, the gas pedal had to be moved forward to accommodate shorter drivers. The front fender was rearranged to cover the tires, as per Japanese regulations. The hand brake and the steering wheel got real leather coverings to satisfy finicky Japanese tastes. All this frustrated GM engineers, who felt too much luxury was being added at unnecessary expense, Toyota sources say. Meanwhile, Toyota was vexed by GM's resistance to change.
DISMAY. Then the quality issue flared up. Toyota established an inspection shop at Lordstown, and one visitor from the company was dismayed to find that 80% to 90% of the cars needed at least some fixing upon inspection (GM denies the figure was that high). Further work often had to be done, frequently including some repainting, once the cars hit Japan, Toyota sources say. Given the problems, Naoki Yamaguchi, president of Aichi Toyota, a regional dealer network in Japan, recently pronounced the target of selling 20,000 Toyota Cavaliers annually "hopeless." "Their vehicle defect rate is about 50 times that of Japanese vehicles," he says. "If they would just put a little more effort into production control..." Cavalier's defenders say the quality "problem" stems largely from Japan's tendency to reject foreign goods by finding excessive fault with them.
Toyota seems to be making a good effort to actually sell the Cavalier. The car is sold through two of Toyota's five sales networks, including the flagship Toyota distribution system. Dealers were told to give the model prime floor space, and Toyota trained special teams to sell it. But Toyota didn't entirely adopt the model as its own: Cavalier ads show the American flag waving as Jeanie Tracy, a black singer who has backed up Whitney Houston, belts out America the Beautiful. "From U.S.A.," says the brochure's opening spread.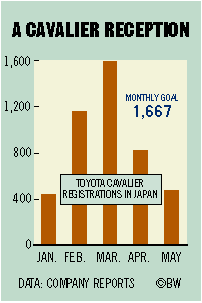 "ILL-CONCEIVED." Many outsiders, however, agree with Furman Selz Inc. analyst Maryann Keller, who says that shipping the Cavalier to Japan "was an ill-conceived project from the start." It's a bigger car with a bigger engine than most Japanese mass-market cars but doesn't have the pizzazz and features to compete with upscale Japanese models, other analysts say. Plus, its market segment is "brutal [in Japan] right now, and Cavalier is not that competitive given the heavy discounting" going on, says Peter Boardman, an analyst at UBS Securities Ltd. in Tokyo. Yet the costly redesign and a built-in premium to dealers make it hard for Toyota and GM to slash the Cavalier's $16,759 to $18,981 price.
GM may yet find at least modest success in Japan. Average monthly sales of the Chevy Blazer, its entry in the sport-utility segment, are up 60% from last year. And its Saturn goes on sale in Japan next year. But for now, Japanese consumers are giving the Toyota Cavalier a reception that's quite a letdown from the hoopla that surrounded its inception.
Before it's here, it's on the Bloomberg Terminal.
LEARN MORE