U.S.: Higher Rates Now Will Buffet Growth Later
Like the storm clouds gathering in the summer hit movie Twister, the bond market's behavior so far in 1996 spells nothing but trouble. Higher rates won't send cows flying through the sky, but they will restrain economic growth in the second half.
The bond market's sell-off has its roots in Washington's failure to reach a balanced-budget pact along with faster-than-expected economic growth, which touched off inflation alarms. As a result, the yield on the benchmark 30-year Treasury bond has increased from 6% at the end of 1995 to as high as 7% in early May. Rising in lockstep with bond yields, the fixed rate on a 30-year mortgage is now about 8% (chart).
Long rates on Treasuries have slipped to around 6.85% in recent days, but that is still high enough to choke off some demand for the durable goods usually bought on credit by consumers and businesses. The latest readings show that new orders for durable goods are slipping, housing demand may be leveling off, and consumers' concerns for the economy's future behavior are increasing.
The drag from higher rates is one reason why two recent surveys of economic forecasts show growth slowing in the second half of 1996. The Philadelphia Federal Reserve Bank's quarterly roundup of forecasts projects that real gross domestic product is growing at an annual rate of 2.9% in the second quarter and will expand by 2.3% in the third quarter and 1.9% in the fourth.
A similar survey done by the National Association of Business Economists indicates that GDP is rising at a 3% rate this quarter and will taper mff to 2.2% in the second half. A key drag on growth, reports the NABE, is the impact of higher rates on housing. The NABE says that 74% of the survey panel believe housing starts will be reduced by 5% to 10% in 1996 because of the one-percentage-point rise in mortgage rates.
CONSUMERS ARE JUST BEGINNING to notice the thunderheads lurking. The Conference Board's index of consumer confidence slipped to 101.2 in May, from 104.8 in April. All of the decline was in the index covering expectations for the economy over the next six months. That index fell to 89.7 in May, from 95.9 in April. The index covering the current economic situation was basically unchanged at 118.3.
Even with the May dip, confidence is still high (chart), and there is little danger that consumers will roll over and play dead. However, signs of slower spending are evident in the Conference Board's survey and elsewhere. The board said fewer consumers expect their incomes to rise in the next six months and more are worried about future job prospects. Buying plans for major appliances and homes fell in May.
Moreover, taxes likely cut into disposable income in April. A surge in tax refunds gave a big boost to spending in the first quarter. But April saw a record amount of individual tax payments, especially to cover capital gains, and second-quarter income will take a big hit compared with the first-quarter level.
Also, rising delinquency rates for credit cards and record bankruptcy filings suggest a small but growing number of households are living well beyond their means. Higher rates will only worsen the situation because strapped consumers will be less able to refinance their existing debts.
Last year's increase in mortgage refinancings added cash to consumers' pockets, but refi activity has dropped by 80% since late February, signaling an end to that stimulus to consumer spending.
HIGHER LONG-TERM INTEREST RATES will crimp the housing sector especially. The jump in 30-year mortgage rates from a low of 6.94% in February to 8% in mid-May has raised the monthly payment for every $100,000 borrowed from $661 to $734. Demand has not fallen much so far, because home buyers are able to hold down monthly payments by opting for adjustable-rate mortgages. But even those rates are rising.
After jumping 6.6% in March, sales of existing homes edged up another 0.5% in April, to an annual rate of 4.22 million. But the gain was narrow: A 10% sales gain in the Northeast offset declines elsewhere.
Mortgage applications to purchase a home so far this quarter are running about even with the first-quarter volume. But both averages are well below fourth-quarter activity. Since it takes one or two months to process a mortgage, the leveling-off suggests home sales have hit their peak. In turn, consumer demand for appliances, furniture, and other household durables will begin to fade.
The higher cost of credit also comes at a bad time for manufacturers of durable goods, where demand is equally interest-rate sensitive. The factory sector had been showing signs that it was ready to emerge from its weak period that began last year. Inventories, especially those on car dealers' lots, look manageable, and first-quarter demand was strong.
Now there is less reason for optimism, as higher rates sap demand. Already, orders for durable goods appear to have topped out. New orders have been unusually volatile recently, mainly reflecting big swings in aircraft orders. April bookings fell 1.9% after March's 2.6% rise, which followed February's 2.5% drop. However, the three-month trend has turned down (chart).
ALL MAJOR CATEGORIES of durable goods orders are below their recent peaks. Bookings for primary metals jumped 7% in April, but that mainly reflects the month's surge in car and truck output following the strike at General Motors Corp. Orders had fallen in each of the five previous months.
Detroit recently boosted its May and June production schedules, based on the year's sales. However, while car buying is at a good level, it appears to have plateaued and may decrease as higher rates dampen demand. Detroit may be boosting output at a time when sales are losing steam, threatening to create another inventory problem later this year.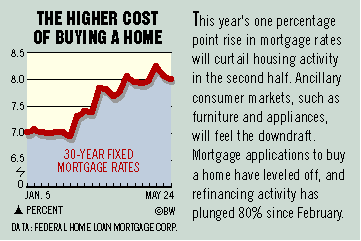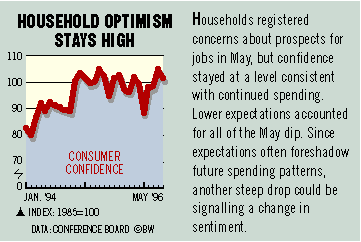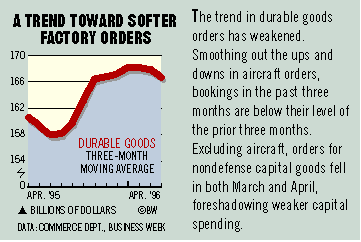 The strongest area of durable-goods manufacturing is nonelectrical machinery, which includes computers. Demand for information-processing equipment remains a strong component of capital spending, but purchases of more traditional machinery are slowing. That's the result of slower growth in the economy, which has reined in corporate profits and created plenty of available production capacity.
Capital spending will slow in coming quarters. Excluding aircraft, orders for nondefense capital goods fell in March and April. Moreover, orders for machine tools, a leading indicator of equipment investment, have slowed sharply in the past year and a half, especially domestic orders.
The head wind from high long-term rates won't blow so hard that it wrecks the expansion. On the contrary, slower growth will set the stage for long rates to decline eventually. That will give the economy a friendly tailwind as it heads into 1997.
Before it's here, it's on the Bloomberg Terminal.
LEARN MORE