In Berlin, A Jewish Neighborhood...Is Home To The Usual Feuding
The two kosher restaurants, the kosher food store, and the Jewish art gallery are all about three blocks from the Jewish high school. Last year, the Centrum Judaica opened in the newly restored onion-domed synagogue. The center houses an extensive exhibit on the city's Jewish life, a Jewish library, and rooms for classes in Hebrew and Yiddish. Private developers are working nearby on the Jewish Trade & Communication Center, which is to open by 2000. It will house yet another Jewish restaurant--and a bagel bakery--in addition to office space plus a bookstore specializing in Judaica.
Sound like the heavily Hasidic-populated Crown Heights section of Brooklyn? Guess again. We're in the capital of Germany, in a rapidly improving neighborhood that's becoming the heart of the reunited city: Berlin Mitte.
ONION DOME. All this may seem a bit odd for a country that did its best to exterminate the Jews of Europe. Berlin's "official" Jewish residents today number about 11,000, down from a prewar population of 170,000. The official Jews are those who have registered with the Einheitsgemeinde, or "unified community," and pay a so-called synagogue tax. Some longtime Jewish residents believe Berlin houses an equal number of nonregistered Jews.
In a city with 3.4 million residents, even 22,000 Jews amounts to a teeny minority. But lately, in the area around Oranienburger Strasse, something approaching Jewish chic has sprung up. Take Cafe Oren, right next to the majestic New Synagogue. Founded by Joachanan Bergel, an Israeli, the kosher restaurant is downright trendy. Along with standard Mideastern fare such as hummus and falafel, it serves vegetarian lasagna and spinach quiche that seem more yuppie than Jewish. It's so popular that Bergel may have worked himself to death: In March, he died of a heart attack at 47 after four years of putting in long hours.
One curious fact about Oren is that its clientele is mostly non-Jewish Germans and tourists. "It's not a Jewish cafe, it's a cafe for philo-Semites," jokes Salomea Genin, a 30-year resident of Mitte. Other signs of interest in Jewish matters are the well-attended lectures and adult education classes at the synagogue and the huge popularity of klezmer music.
Around the corner from Oren, on Tucholsky Strasse, is the more traditional Beth Cafe, run by Adass Israel, an ultraorthodox group that has won official recognition as Berlin's rival Jewish community. Beth Cafe is glatt kosher, or strict in its dietary rules, and it's not open on either the Sabbath or Jewish holidays.
For Jewish residents, the transformation of Mitte from a run-down working-class area into a thriving neighborhood with a strong Jewish presence is something of a mixed blessing. "I liked the neighborhood before the Wall came down for the very fact that there weren't many people," says Lara Damming, a 32-year-old Jewish librarian. East Berlin's Jewish community had its headquarters here, but Damming notes that it really wasn't a Jewish area: "With only 200 Jews in all of East Berlin, how could you have a neighborhood?"
Given German history, one might think the modern Jewish community would stick together. In fact, Jewish politics in Berlin make the U.S. Republican Party look like one big happy family.
Late last year, Jerzy Kanal, the conservative head of the Einheitsgemeinde's board of directors, threatened to resign, thinking he had lost majority support--only to drop his threat after backers rallied. Opposition leader Moishe Waks, who hoped to take over quickly, will now have to wait for scheduled elections in March, 1997.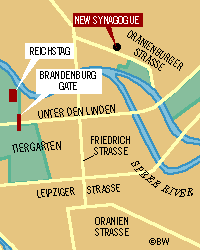 Kanal, who calls himself a "nonpracticing Orthodox Jew," has resisted any moves toward reform Judaism. Waks says he will be more liberal, but many remain skeptical. Meanwhile, a group of women, unhappy with their second-class status in the community, have started an informal group to push for more progressive Judaism. All this on top of Adass Israel's secession from the official community.
One might view this as a lot of fuss for a city with only 11,000 official Jews. But as Salomea Genin puts it: "Did you ever see a Jewish community where the members got along?"
Before it's here, it's on the Bloomberg Terminal.
LEARN MORE