U.S.: The Fed Should Have A Peaceful Summer Vacation
When the Federal Reserve's policymakers sat down on May 21 to discuss their next move on interest rates, they looked around, saw the economy growing at a healthy, noninflationary pace, and did what nearly all economists expected them to do--nothing. But more important, the latest data suggests that the next meeting on July 2-3 will bring the same result.
One of the best indications of that is the excellent performance of productivity and unit labor costs in the first quarter. Good productivity gains continue to offset wage growth, leaving unit costs rising only modestly. That trend not only supports the low-inflation outlook, but it also means good profits, continuing high-tech investment, and competitive exports. All in all, these are solid foundations for moderate, noninflationary growth.
The bond market seems increasingly convinced of that as yields retreat from recent highs. Bonds have already done their part in limiting growth and inflation in coming months. For example, the year's sharp rise in long-term rates means that the strong advance in April housing starts may be the last for a while. Housing starts jumped 5.9%, to an annual rate of 1.52 million. But given the flat trend in mortgage applications, demand is losing steam.
And remember the twin towers--the trade and budget deficits? Their presence in the economy has shrunk dramatically. That's especially true for the budget deficit, based on April's huge surplus and what that implies for the rest of the year.
Meanwhile, the trade gap, after widening in the first quarter, is on course for improvement this year, particularly given the dramatic shrinkage in the U.S. deficit with Japan (chart). These two trends are also Fed-friendly, since they provide further support for both bonds and the dollar.
FIRST-QUARTER PRODUCTIVITY growth was especially robust in manufacturing. Measured as output per hour worked, productivity in the overall nonfarm sector rose at an annual rate of 2.6%, but factory efficiency soared 6.3%. Manufacturers managed to increase their output by 2.8%, even though hours worked dropped by 3.2%.
Although the first-quarter performance overstates productivity's longer-run trend because of weather, strikes, and other distortions, that trend is still favorable. Over the past year, productivity is up 1.6% for nonfarm businesses and 4.7% in manufacturing.
With wages and benefits still growing slowly, labor costs per unit of output continue to grow only moderately in the nonfarm sector, where they are up 2.3% from a year ago (chart). That's still slower than the rate at which prices are rising, suggesting that cost pressures on product prices are minimal and that profit margins are generally in good shape.
One caveat on profits: The stock market might be anticipating earnings gains greater than those that will materialize. Unit labor costs are growing a bit faster than they were this time last year. With the pricing power of Corporate America still weak, margins later in 1996 could be at risk, especially if productivity cannot maintain its recent performance. Indeed, depending on how much the economy slows in the second half, productivity gains may also diminish.
Manufacturers might be the exception, however. Unit labor costs at the factory plunged 6.6% last quarter. They are down 2.4% from a year ago, and the 1.6% annual rate of decline during the past eight quarters is the steepest two-year drop since that data-gathering began in 1959. The pattern explains why manufacturing's gains in competitiveness in international markets have been so stunning in recent years.
SOLID GAINS IN EXPORTS, combined with a slower pace of imports, should lead to a narrowing in the trade deficit in coming months. The March trade gap in goods and services widened sharply, to $8.9 billion, from $7 billion in February. However, the February deficit was revised downward considerably because of a new reporting method that increased February exports at the expense of those in March.
The second-quarter trade gap should be narrower. In the first quarter, the growth of inflation-adjusted exports of goods and services fell well short of its annual trend of 6.5%, while imports grew twice as fast as their 4.7% yearly pace. This quarter's pattern will be more reflective of those trends, since domestic demand appears to be slowing and since the trade deficit with Japan dropped sharply in April.
Japan's surplus with the U.S. shriveled to $1.62 billion in April, according to data from Japan's Finance Ministry, from $4.5 billion a year ago. It was one of the steepest yearly declines on record, mainly reflecting Japan Inc.'s cost-cutting strategies. In an effort to deal with the stronger yen, Japanese companies are shifting production offshore, boosting imports. Measured in yen, exports to the U.S. rose 1.2% from a year ago, while imports from the U.S. soared 39.5%.
With Japan's surplus falling, the yen has weakened, slipping 18.7% against the dollar over the past year, to about 107 yen per dollar. The dollar's recent strength should ease any worries from inflation hawks inside and outside the Fed about a weak currency bringing imported inflation.
THE FED ALSO HAS TO BE PLEASED with the thrust of fiscal policy. Although Congress and the White House failed to agree on a balanced-budget plan, the deficit has shrunk anyway. A falling deficit means fiscal policy is a drag on economic growth. And as Congress and the White House make another attempt at budget-balancing in 1997, the fiscal brake will continue.
The surprise for 1996 is just how much the deficit is shrinking. The Treasury Dept. reported a record surplus of $72.4 billion for April, up sharply from $49.7 billion in April, 1995. The reasons: Record individual tax receipts, fueled partly by a surge in capital-gains taxes paid as a result of last year's rally on Wall Street, along with cuts in discretionary spending resulting from this year's budget stalemate.
The April surplus prompted the Congressional Budget Office to update its forecast. The CBO now says the deficit is on track to total $130 billion for fiscal 1996, which ends in September, down from $164 billion in 1995. That works out to just 1.7% of GDP, the lowest since the Carter Administration (chart).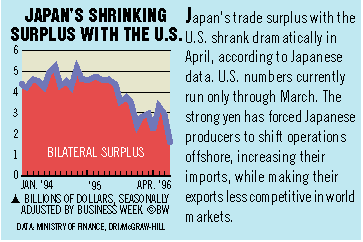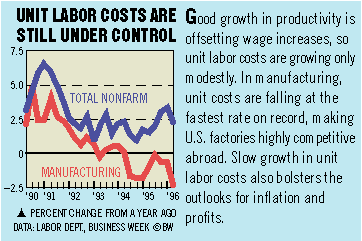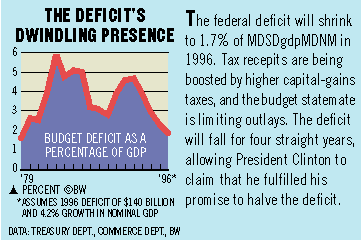 The slowdown is even more pronounced when interest payments are excluded. Interest on the $5 trillion national debt accounts for $1 of every $4 spent by Washington. In fact, excluding interest, the government is running a hefty surplus.
But despite the recent improvement, the deficit promises to keep fiscal policy in gridlock, leaving monetary policy as the only game in town. But as the data suggests, the economy shows no signs of a recessionary skid or inflationary surge. And chances are good that the Fed will keep playing its wait-and-see game well into the summer.
Before it's here, it's on the Bloomberg Terminal.
LEARN MORE