Treasure Hunting In The Bargain Bin
Daedalus buys publishers' discards for its thriving catalog
For Robin Moody, Daedalus Books has always been more about a passion for great books than a passion for making money. And that may be his greatest strength. Moody didn't set out to build a company. He never went near entrepreneurial hotbeds such as Silicon Valley. And he specializes in the oldest technology going: the printed word. The fact that he's successful shows you don't have to be part of the latest trend to launch a business--and that opportunities exist in even the oldest industries.
The Hyattsville (Md.) mail-order company Moody started 16 years ago with partner Helaine Harris buys and sells publishers' leftovers, known as remainders. If they were in the securities business, Moody and Harris would be called arbitrageurs, because they exploit market inefficiencies. Remainders are books the market says no one wants at full price. They're usually found in chaotic assortments in bookstore bargain bins. But rather than buy whatever becomes available or specialize in a narrow niche, Moody and Harris search out overlooked gems and market them aggressively to individuals and bookstores, at a price somewhere between dirt cheap and list. Essentially, they save readers the trouble of sorting through the leftover bins themselves--and for that, they collect a tidy profit. Says Harris: "We want to sell books that we'd want to read."
ZIPPY GROWTH. That simple formula seems to work. Daedalus Books--named for both the Greek myth and the James Joyce character--is generating more than $12.5 million a year in sales, 54% to bookstores and the rest through its catalogs. At a time when many independent bookstores are struggling to compete against rapidly expanding giants such as Borders Inc. and Barnes & Noble Inc., Daedalus is enjoying sales growth of 10% a year. Not bad, considering San Francisco-based consulting firm W.A. Dean & Associates figures the overall catalog market has grown at just 5.5% in recent years.
Moody's path to entrepreneurship was a rather winding one. Graduating from the University of Michigan in 1968, he spent the next several years teaching sixth-graders, traveling in Europe and Thailand, and working in a bookstore. Then, he took a job with a book distributor, where he met Harris. Convinced there was a better way to run the business, they bought the company in 1980, renamed it, and switched the emphasis from buying academic and scholarly books that become dated quickly to searching out overlooked literary works. Moody's wife, Tamara, came aboard to manage the wholesale business in 1983. The three now work in a cluster of offices above the warehouse.
Determining which books to compete for--remainders are auctioned in a closed-bid process--is a group effort. Moody's team tries to keep up with new writers who may be producing wonderful but lesser-known novels. Daedalus' knack for ferreting out great books has won the company clout with wholesale customers. Says Jeff Lee, bargain buyer for Tattered Cover Bookstore in Denver: "The fact that Daedalus has gone after a book makes me think I should at least get a few copies."
But the greatest innovation at Daedalus is the catalog, which mails seven times a year to 3.5 million people. With opinionated blurbs on each book--The Chess Garden by Brooks Hansen "...could have been written by Italo Calvino or C.S. Lewis," asserts one entry--they read more like ongoing conversations among book lovers than ad copy. The eclectic mix includes fiction, history, and almost every other category. "I make a point to see what selection they have, for both competitive and personal reasons," says Marshall A. Genger, chief operating officer for rival Random House Value Publishing.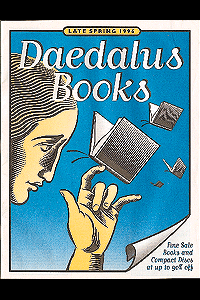 SURPRISE. While the unpredictability of Daedalus' offerings is a treat for customers, it's a logistical nightmare for Moody. The company orders some books directly from publishers, but it acquires most of its inventory by bidding for remainders. That makes planning tough, since dealers never know which titles will become available or which lots they'll win. "You never know month to month what you'll have to sell," Moody says with a laugh. In one month, he may spend as little as $50,000 on new inventory or as much as $1 million. To keep the catalogs fresh, books have to be researched, bid on, and summarized in a pithy blurb in short order.
Stiffer competition for remainders has helped drive up costs. The big chains use bargain books to build store traffic. And while those chains are customers, they are also competitors. Moody figures a few years ago, he could snap up some books he wanted for a fifth of his retail price. These days, it's more like a third. But his enthusiasm is as keen as ever. "This business is such fun," Moody says. "It's very fast and constantly exciting." Just like a good book.
Before it's here, it's on the Bloomberg Terminal.
LEARN MORE