The Peso Is Back But Not Too Far
Despite its runup, the Mexican currency isn't overvalued
Economists excel at finding something to worry about in good news. With Mexico showing clearer signs of recovery, including falling unemployment and interest rates, investors have displayed their confidence by keeping the peso unexpectedly strong. The currency has risen by nearly 15% in inflation-adjusted terms against the dollar this year, to around 7.4. Now, some Mexico watchers are fretting that if the climb continues, exports could lose their competitive edge, imports might flood in, and the threat of a new trade deficit could scare investors into a rout.
But despite the peso's runup, there is little evidence that it's severely overvalued yet. Last fall, investors felt that Mexico's economic fundamentals didn't justify a strong peso, and speculators pushed it as low as 8.2 to the dollar. This time, positive economic indicators are buoying investor sentiment. In addition, many believe that November's attack pushed the currency too far down. "The peso still has a little bit of breathing space," says Lawrence Goodman, an economist at Salomon Brothers Inc. in New York.
The recent numbers--a surprisingly small 1% year-over-year drop in gross domestic product for the first quarter and employment growth of 1.8% in April--helped reassure peso investors that their faith was not misplaced. And trade figures show no hint yet that the peso is too strong. Exports grew by 20.3% in the first four months of 1996, and April's trade surplus of $731 million was the highest in seven months. True, imports have been growing--up 16.9% in the first fourth months--but not more than analysts expected as the Mexican economy improved.
ROOM TO MANEUVER. And the trade picture includes one detail that could make the peso's strength less worrisome. Since Mexican wages have risen far more slowly than prices, exporters still have room to maneuver because their costs have remained so competitive. "Even taking into account the peso's rise since November, Mexico has secured a huge advantage since 1994," argues Lawrence D. Krohn, senior Latin America economist for UBS Securities Inc. in New York. Indeed, before its devaluation in December, 1994, the peso was trading around 3.5 to the dollar.
In an effort to forestall any panic that the peso has overshot its upper limit, the government has suggested the currency's level is fine for now--while hinting that it would like to see a weakening by yearend. On May 20, President Ernesto Zedillo Ponce de Leon told a meeting of insurance agents that using government intervention to push the peso lower "would have artificially cheapened our products [abroad]." But on the same day, Carlos Noriega Curtis, a top aide to Finance Minister Guillermo Ortiz, said in New York that his ministry would like to see the peso slip to 8.25 to the dollar by the end of 1996.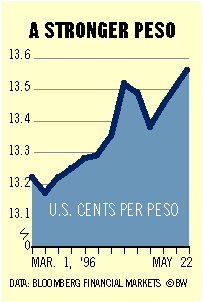 The problem is how to ensure a gradual decline. Some analysts think falling interest rates alone won't be enough and the central bank should step in. "Buying up dollars would send the signal that the central bank shares the concern about a strong peso," says Gray Newman, an analyst at HSBC James Capel in Mexico City. But the central bank insists on letting the peso float freely, and with just under $16 billion in reserves, it can't afford large-scale intervention anyway. Broader risks could turn a smooth currency decline into another violent sell-off. The U.S. election could cause a correction on Wall Street, squeezing the foreign investors now bolstering the peso. If economic growth doesn't pick up from the 3% forecast for this year, investors may abruptly bail out of this still-sensitive market. "Three months of good economic data do not make a recovery," warns Mitchell Sahn, managing partner at New York's Latin Tactical Trading Group.
So far, officials have managed the peso adroitly. If economic progress continues and the government still wants to protect export competitiveness, the finance ministry may be able to talk the peso down gently as the year progresses. That would be truly good news for a market that has suffered about as much volatility as it can take.
Before it's here, it's on the Bloomberg Terminal.
LEARN MORE